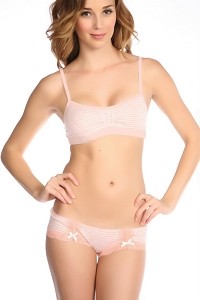 If you read The Fashionable Gal's recent post, "How Many Bras Should You Own?" and you went out and bought one for each category, you probably have at least six new, frilly pieces to choose from on any given day. At this point, you've probably mastered which pieces go best with what outfits, and your shoulders and back probably feel better now that your chest is properly supported. But when laundry day hits, you might feel as if you're back to square one on your knowledge of fine lingerie.
Washing lingerie is a little more complex than your typical load of T-shirts. The delicate fabrics and finicky underwire alone can might them a nightmare to tangle with. And perhaps the worst part about the laundering process is the fact that usually, lingerie isn't cheap. So when you invest in quality pieces, you have to take the extra steps necessary in order to ensure they last as long as possible.
Thankfully however, there are a few easy ways you can keep your favorite under things looking, feeling, and of course smelling fresh. Take a look at a few of our favorite ideas for how to go about it.
Use Luke-Warm Water
As explained in the How to Care for Your Lingerie guide from Adam & Eve, you should avoid using hot water when washing your lingerie. Hot water can break down and shrink the natural fibers of the material. When the material gets worn, it weakens the areas that keep your underwire in check—and no one likes to be irritated and poked throughout the day by unruly underwire.
Not only that, hot water can also wear on your lingerie's elastic. So if you want your undies to keep their snug and comfortable fit, stick with luke-warm or cold water instead.
Opt For Delicate Fabric Soap
Lingerie soap is typically best when handling your delicates, but there are a few other options you can try as well. For example, Women's Day suggests using a very mild form of soap, such as all Free and Clear, a brand that's free of dyes, perfumes and preservatives. Most detergent designed for babies will work as well. They're usually created with hypoallergenic, non-toxic ingredients, formulated with babies' sensitive skin in mind.
Most importantly however, you should never—never, ever—use bleach. The strong chemicals are too abrasive for the majority of lingerie fabrics.
When in Doubt, Hand Wash
According to the Wash & Care guide from Freshpair, hand washing your bras is the best way to preserve their quality.
Use the aforementioned advice (luke-warm water and delicate fabric soap), and soak the lingerie for about an hour. Gently rub the fabric to remove dirt and oil, then rinse with cold water until the water runs clear. Reshape the cups with your hands and hang to dry—never put them in the dryer. Just like with hot water and abrasive chemicals, the dryer can breakdown your lingerie's elasticity.
If all else fails, use the symbols provided on your lingerie's clothing tag as a guide. They explain the best way to handle your specific pieces, so you can be sure they will retain their quality for as long as possible. If you find yourself puzzled as to what a certain symbol means, don't worry, you're not alone. You can use the Guide to Fabric Care Symbols provided by the Cleaning Institute to decipher the different meanings.