The Fashionable Gal is a Fashionable Media blog that has grown to be an influential blog in the Beauty Blogging community. Geared towards teens, college students, and young women who care what they look like but don't want to spend a ton! We talk about beauty tips, the latest trends, what NOT to wear and so much more. Plus, we will keep you informed about exclusive coupons and sales.
We have new and exciting giveaways all the time and feature exciting articles about the best beauty products, sales, deals, trends and so much more.
By advertising on any Fashionable Media blog, you'll be positioning your company center stage to our loyal and passionate audience. Fashionable Media is a growing network of fashion and styles blogs that reach women who are savvy shoppers and always on the hunt for a bargain.
---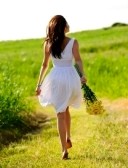 About Belle Alexander
Belle Alexander is the Managing Editor of The Fashionable Gal.
Smart, funky, edgy and obsessed with makeup, Belle is the star of this show and never leaves readers with a dull moment! She posts about the most relevant and up to date fashion and beauty trends for young woman and does so with a flair.
If you would like to contact Ms. Alexander to have her review your product, post a press release, host a giveaway, contest or more, please email her directly at belle@thefashionablegal.com