It seems like su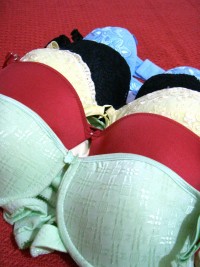 ch a simple question, but knowing how many bras you should own is actually difficult. There are many factors that have to be taken into consideration. If you ask most women how many bras they should own, the answer will vary from three to ten. So, how many bras does a woman need to own? Let us start by determining the different types of bras a woman should own and this will help us determine how many bras a woman needs to own in total. Here is a list of the bras every woman should own.
1 – The T-Shirt Bra
The t-shirt bra is the bra most women wear under their more casual clothes, like t-shirts. These bras are seamless and smooth but still provide the cover and support that a woman needs under her clothing. A woman should have a minimum of two of these in her lingerie drawer.
2 – Sports Bra
Women today are more active today than ever. They are out hitting the gym, power walking, doing yoga, or jogging. On these occasions sports bras are ideal. If doing low impact exercises a compression sports bra is perfect, if your workout is more intense, an encapsulating bra is the optimal choice as it offers more support.
3 – Strapless Bra
There are going to be occasions where a woman needs to wear a strapless bra because the top she is wearing requires on such garment. Perhaps you are going to be a bridesmaid at your friend's wedding and you are wearing a strapless gown, a well-designed strapless bra will give a woman the coverage she needs and allows for more diversity in her wardrobe.
4 – The Balconette Bra
When looking for a sexy bra style that offers the coverage and support that you need while affording cleavage you desire, the balconette bra is a great option. This type of bra is great when wearing tops with a low-cut neckline, but is suitable under a variety of clothing options.
5 – The Plunge or Push-up Bra
Women that like beautiful sheer lingerie, or want to dress in a more provocative fashion, such as wearing wrap dresses or blouses or dresses with a plunging V-neck need to incorporate a plunge or push-up bra into their wardrobe. These will provide a bit of cleavage and look great under V-neck style blouses; these should not be worn under shirts with scoop necklines or crew necks.
6 – The Racerback Bra
When the weather gets warmer and the light summer dresses and tank tops start coming out of the closet a woman needs a bra she can wear underneath them without worrying about her bra straps showing. The racerback is perfect for this as it offers the support and coverage a woman needs and her breasts, while keeping the straps hidden from view.
As you can see, if you are a woman that wears a wide variety of clothing styles you are going to need a much larger bra selection than the woman that basically lives in her casual clothing or workout wardrobe. Ideally, every woman should a bra that will suit every occasion. Even if you only wear a plunge or a strapless bra once or twice every three years, you should have one sitting in your lingerie drawer. Regarding the bras that you wear the most, sports bras or t-shirt bras, it is definitely a good idea to have two or three of each of these on hand so you always have one to wash, one to wear, and a spare.