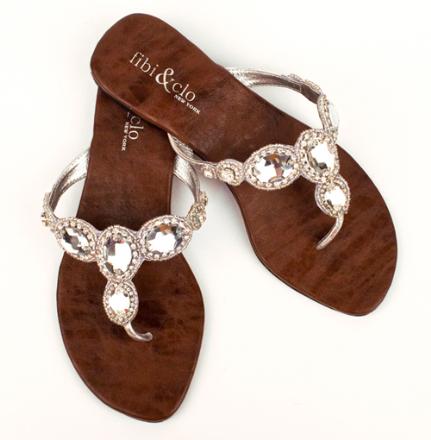 Even if it doesn't feel like it spring IS coming. Well, in a matter of months that is. So why not welcome it with a new and totally cute pair of sandals from Fibi and Clo?
I had a chance to review their Bright Star sandals and I love them. They are so cute and stylish. With sparkling beading these sandals feature enough bling for all of us bling lovers!
Thankfully these shoes have a great fit and I'm very impressed with them. They are actually quite comfy and I know that I will be perfectly content to wear them all spring/summer long!
I love how versatile these sandals are. They aren't just for church, weddings, or dinner out. They are also practical enough to wear out shopping or at the beach. And since they are so well made you can be sure that they will last! And if the beading does start to come off Fibi and Clo will replace it for you. Isn't that awesome?
These adorable sandals come in sizes 6-11 and make a perfect pair of sandals for spring and summer. I can't wait for spring to get here so I can wear them! They are currently on sale for $20 off so hurry up and get your own pair!
Be sure to check out the rest of their adorable shoes at- fibiandclo.com
The product for this review was provided to us free of charge for the purpose of product testing. This does not effect our opinion of the products in any way. We only write about products we personally like and use, regardless of how they were acquired.