I am big on eco-friendly items. If you haven't notice I LOVE supporting eco-friendly companies why? Because I know that when I buy eco-friendly products not only am I helping the environment and I'm also not putting chemicals on my body by using eco-friendly products.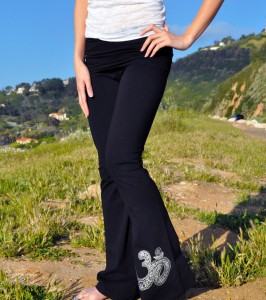 I was sent the Ganesha Gathered Waist Yoga Pant and I am SO impressed with them. These adorable pants are made from 95% cotton and 5% spandex. They are perfect for doing everything from yoga to shopping. And they look super cute!
My favorite part? These pants feel like sweat pants, but they look as fashionable as jeans. So you don't have to sacrifice fashion for comfort.
They come in sizes- Small 2-4, Medium 6-8, Large 10-12. So you are sure to find a pair that fits you. And plus I love that they have a perfect fit.
I highly recommend Jala Clothing and am very impressed with them.
The product for this review was provided to us free of charge for the purpose of product testing. This does not effect our opinion of the products in any way. We only write about products we personally like and use, regardless of how they were acquired.