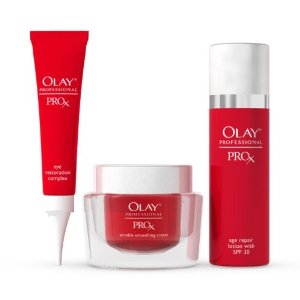 I don't know about you, but I know that the winter months can take a toll on anyone's skin. And it can defiantly take a toll on our skin during the Holiday season. So what better gift to give your mom, girlfriend or grandmother then the Olay Professional Pro-X?
What is the Olay Professional Pro-X? Good question! It's a anti-aging skin care system, that works wonders for your skin! Not only does this product take away fine lines and wrinkles, but it also can help remove bags, crows eye, freckles, age spots, and so much more!
It's a scientifically advanced line of skin care products that gives you younger-acting, younger-looking skin in 28 days. moisture in your skin and to help your skin look younger, healthier, and glowing!
This set includes the-
Pro-X Age Repair Lotion with SPF 30
Pro-X Wrinkle Smoothing Cream
Pro-X Eye Restoration Complex
The catch? No catch! All you have to do is daily use this product for guaranteed results! I'm so excited about the eye cream! As you probably know, my late nights give me huge bags and makeup won't hide them! (hey, I HATE cakey makeup!) SO, I'm super excited!
This product is getting RAVE reviews all over the web and makes a great gift for mom this Holiday season, or anyone! I highly recommend it!
You can find this product at retailers nationwide
The product for this review was provided to us free of charge for the purpose of product testing. This does not effect our opinion of the products in any way. We only write about products we personally like and use, regardless of how they were acquired.