Shabby Apple, mmmmmmm one of my favorite online store for all things beautiful! I love, love, love, love them!!!! They have to be the most fabulous dress company ever!
Not only do they ship really fast, but they also have a huge selection of dresses/accessories/swimwear/ and more to choose from! Which is great! 😉
They were nice enough to send me one of their lovely dresses to review. And I chose the- Le Coeur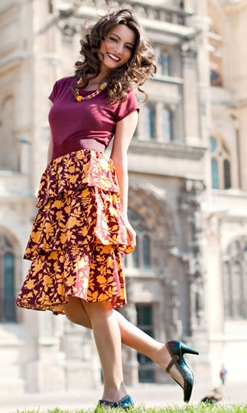 My thoughts:
This dress beautifully made! I mean beautifully made! It features a cranberry colored top and a lovely orange and cranberry skirt. The skirt is even flounced!
This adorable dress is super comfy to wear and it's so pretty! I totally adore it! This dress can be dressed up with a cute statement necklace and heels for night out, or you can dress it down by wearing a pair of flats and a cardigan with it.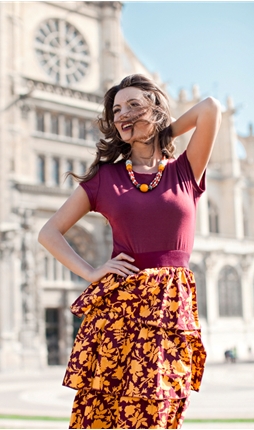 I got this dress in a xs and it fit me perfectly! The sizing was just right! I'm tall (5'6-5'7) and this dress hit me right at the knee which is perfect!
This dress does have to be hand washed. BUT, it is worth it. I mean hand washing for this pretty dress? Hey, who cares! It's a cute dress and I'll hand wash it! It's SO worth it!
I LOVE my new Shabby Apple dress and I'm buying another one very soon! This dress is going to be my attire for my Church's Easter brunch this Easter. I'm gonna show it to all my girl friends and see what they think! 😉 I've gotten quite a few compliments on how cute/pretty I look in it, so I'm definitely wearing this dress again!
You can buy this lovely dress for $78.00 here. (It's worth it though!)
Be sure to fan Shabby Apple on Facebook, follow them on Twitter, and check out their awesome clothing!
The product for this review was provided to us free of charge for the purpose of product testing. This does not effect our opinion of the products in any way. We only write about products we personally like and use, regardless of how they were acquired.