There are times in every girls life when she wishes that she had a breath mint. I mean who wants to have bad breath when they are out to dinner with the girls, at lunch with your co-workers, at school, or even worse when you meet Prince Charming. So what's a gal to do? Enter Colgate! Once again Colgate has created a new product that meets consumers need!
Their new product called Colgate Wisp is a package of miniature toothbrushes that require no water that fit perfectly into your purse!
My thoughts: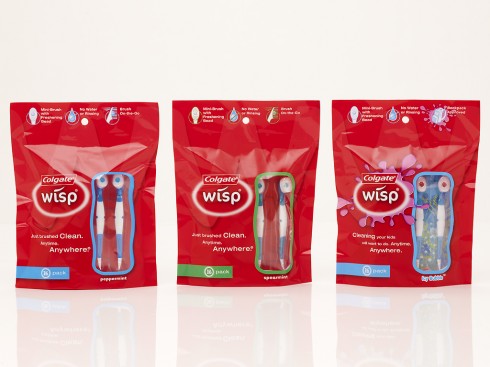 The nice rep from Colgate sent me three flavors to try! Icy Bubble, Peppermint, and Spearmint. I have to say that right off the bat I was impressed with these little things! I get bad breath pretty easily and I constantly chew gum/eat breath mints to ward it off.  So the new Colgate Wisps are a lifesaver for me! I love them! I mean they come in 3 great flavors, are easy to "stuff" in your purse,  taste great,  have a flossier attached to them, are affordable, and solve your bad breath problems!
I loved all of the flavors, but Icy Bubble. Peppermint and Spearmint were great! They left my mouth feeling  clean and fresh and I loved them!  But Icy Bubble was bad. But, that's just me. I ****hate**** bubble gum flavored products.  I always have hated bubble gum flavored products and probably always will so, that's just me! All of you bubble gum flavored lovers however, will love this product as it tastes exactly like the real thing!
I highly recommend the Colgate Wisps and I'm going to pick some more up when I run out!
You can buy Colgate Wisp for $5.49 for a 16 pack at Walmart, Walgreens, and other stores nationwide.
The product for this review was provided to us free of charge for the purpose of product testing. This does not effect our opinion of the products in any way. We only write about products we personally like and use, regardless of how they were acquired.