Recently, I was given the fun opportunity to do a review with Lingerie.com. It's a fabulous site that has a wide range of lingerie, costumes, sexy panties, corsets, stockings, and even plus size lingerie.  The products on the site range from classy to…  well, yes, trashy – but in the way that can be perfectly appropriate for consenting adult couples!  So whether you're wearing these pieces under your clothes for a bit of secret, sexy confidence, or playing "stranger" (or any other role) – Lingerie.com is where you'll want to shop.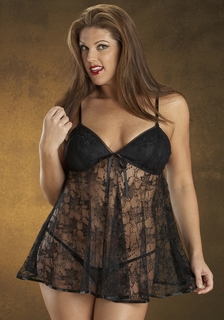 Personally, I like more classic, tasteful pieces – ones that can even double as a nightgown on very hot nights.  I was immediately drawn to the Maxime Babydoll (with matching G-String), which retails for a super affordable $29.99!  It's a really cute piece that I was delighted to receive in the mail.  In person, the Maxime Babydoll is well made and adorable.  It fits true to size and is both flattering and sexy.  And even though it's very lacy, it's definitely comfortable to wear – so if you're not 100% comfortable sleeping nude, this is a nice alternative when you have company!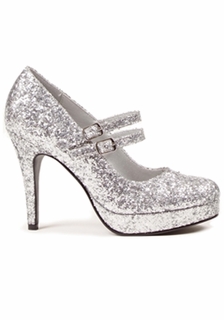 The second item I selected to review didn't actually have anything to do with the bedroom, for me.  I'm just in love with these shoes!  The Jane-G Glitter 4 Inch Heels are perfect for sexy get-ups and role playing, but for me, I'm happy to just wear them out for the night.  They fulfill the tiny drag queen inside of me that's clamoring to get out.  I usually wear shoes between sizes 9 and 10, but selected a 10 for this pair.  They're a little bit snug, but if you don't plan on spending much time, er, on your feet – it really won't be a concern, right?  I have a feeling they're going to stretch out well and be fine for spending more time on my feet.  Then again, with 4 inch heels, it might be in my best idea to stay seated!  The heels also retail for an affordable $29.99.
Ready to check out Lingerie.com's selection for yourself?  Well you're in luck, because one of you lucky gals will be checking out for free!
Contest Info: One lucky reader will win the item of their choice, valued at $65 or less, from Lingerie.com.  You must complete the Mandatory Entry before any extras will be counted.  Please leave a separate comment for each entry.  This contest will end July 21st, 2010, at 11:59 PM EST.
Mandatory Entry: Sign up for Lingerie.com's newsletter.  You'll receive an email coupon to use on your next order – bonus!
Extra Entries:
Fan Lingerie.com On Facebook – 1 Entry
Fan The Fashionable Gal on Facebook – 1 Entry
Follow @Lingeriedotcom on Twitter – 1 Entry
Follow @FashionableGal on Twitter – 1 Entry
Subscribe to this newsletter (top of page) – 1 Entry
Share anywhere not listed (ie Stumble, Digg) – 1 Entry per Location
Blog this giveaway (leave direct link) – 3 Entries
Tweet using the text below, up to twice a day (min 2 hours apart) – 1 Entry per Tweet
Win your choice of lingerie (ARV $65) from @lingeriedotcom and @fashionablegal & spice up your summer! http://wp.me/pbj1u-1Zc