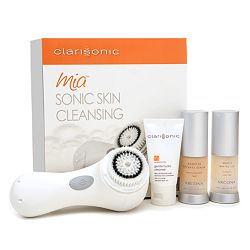 Available exclusively at Beauty.com, Clarisonic and Arcona partner to create a must-have kit for the skincare junkie in us all. Combining Clarisonic's professional sonic cleansing technology with the leading holistic spa and skincare brand, Arcona, discover the secret to silky-smooth, radiantly fresh skin. The set
retails for $149 ($207 value) and just launched on Beauty.com.
I already have a Clarisonic
, and love the Gentle Hydro Cleanser
that it came with.  It's the perfect cleanser to pair with the Clarisonic, as it's gentle and creamy enough to work really well with the cleansing bristles of the Clarisonic.  Some cleansers are too thin and make the brush head feel a bit scratchy, but that's not the case with the Hydro Cleanser.  As I already own most of the kit, the generous people from Beauty.com sent me the Arcona product duo to try out.
The Arcona products included are Booster Defense Serum
and Magic White Ice
.  I've used Arcona products before and always had a positive experience, so I was expecting the same with these two – and of course, I wasn't disappointed.  It's unsurprising that Clarisonic would have chosen fabulous products to pair with their miracle tool!
The first thing I noticed about both products is that they smell amazing.  It's a delicious, fruity scent that serves as a great pick me up in the morning.  White Ice is a light, hydrating gel that works to moisturize, clarify, and neutralize free radicals.  It leaves skin glowing and soothed, while addressing many skin concerns at once.  The Booster Defense Serum is an "antioxidant cocktail" that regenerates at a deep, cellular level.  It works to make skim firmer, stronger, and better protected against environmental stressors.
Both products are perfect for the summer, as they're light and gentle.  Overly creamy or goopy products will weigh your skin down, but these hydrate without overdoing it.  And the smell!  Seriously, the smell is reason enough for me to keep using them.  They've been a great pick me up for my skin, and of course, work in perfect harmony with the Clarisonic!
CLARISONIC Exclusive Clarisonic Mia Arcona Set