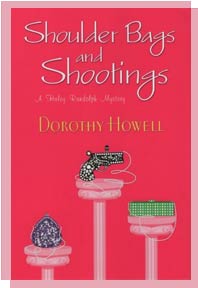 "In Shoulder Bags and Shootings you will meet Haley, who's life is beyond fabulous. She just spent two amazing weeks in Europe with her boyfriend Ty Cameron, owner of Holt's Department Store where Haley works.  But, events turn for Haley when she finds the body of her nemesis in the trunk of Ty's grandmothers Mercedes.  Topping the list of suspects, Haley must solve this murder quickly before she becomes a killer's next fashion fatality!"
I received a copy of Howell's new book, "Shoulder Bags and Shooting," for review.  I read a lot of textbooks and heavier nonfiction, so a light chick-lit book is a great break for me, that also stimulates my mind.  Vegging out in front of the TV is nice, but it doesn't make me feel accomplished at all!
Howell's style writing style is fun, which makes reading the book a breeze.  I enjoyed the plot, although I did feel a bit lost – as this is part of a series of books about character Haley Randolph, there's some back story missing if you jump into a later story.
I recommend checking out Howell's website to find out more about the book, and to score your own copy.  While you're there, check out her contest to win a designer handbag!
Stay tuned for an article from Howell on how to shop for designer bags.