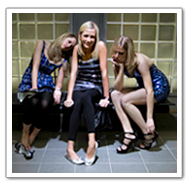 If you love high heels, then you will adore fabbys, the super cute, super compact, rollable ballet flats that can fit in a small clutch.
Retailing at just $19.95, fabbys are a must-have accessory for every purse, party bag, travel kit, and desk drawer – anywhere you might want to swap your heels for a cute, comfy alternative.
Each pair of fabbys comes in a small velvet pouch and includes a drawstring tote to carry your heels.  Fabbys are available in three colors:  Be Jealous Black, Glamazon Gold, and Shameless Silver.
I recently received my very own fabbys in the mail, for review – in Shameless Silver, in case you're wondering.  Before I received them, I wasn't particularly interested in a rollable shoe…  I usually just suck it up and let the blisters form, or carry flip flops in my purse.  This totally changed when I actually received the fabbys.
First off, they really are cute shoes.  If they were a little sturdier, I'd wear them out on their own, rather than keeping them as a backup pair.  However, they're perfect in the as a supporting actor in the footwear arena.  I love that they come with both their own little pouch, and a bag for your main footwear choice.  That's something I always forget to do, and I hate putting dirty shoes into my bag or letting them rattle around in the back of my car (where I inevitably forget about them for a week or two).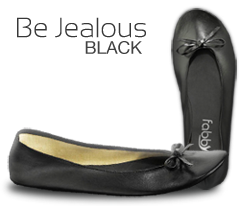 I like to wear my fabbys around the house, in place of slippers.  They feel like light socks, are comfortable, and are perfect for when I need to run out and check the mail or run a quick errand.  In fact, I'm actually thinking about picking up a pair of insoles (required for my flat feet) so I can wear these babies more frequently.
Beyond being perfect for replacing high heels after a long day, fabbys are also great for travel.  I'm going on vacation soon and I plan on wearing these to the airport.  They'll be a breeze to take through security, and if I want to take my shoes off on the plane, I won't lose any foot room to bulky sneakers or pumps.  They'll be great to wear down to the hotel pool as well, or throw on for a quick trip down to the vending machine.  They're made from water resistant, skid proof material so they'll hold up well for short ventures – but these are not meant for all day wear!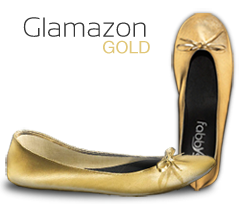 Fabbys are available in Small, Medium, and Large.  Large is supposed to fit a size 9.5 to a 10.5 but I definitely think they run small.  I wear a size 10 and these *just* fit so if you're on the fence about what size to order, I'd order up.  And I'd stock up, too – if you buy 2 pairs, you receive free shipping, and if you order all three colors you'll pay only $49.95 for the whole package.