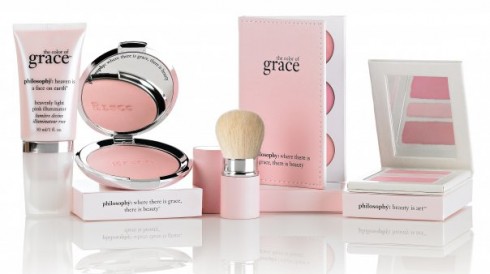 philosophy:Â  where there is grace, there is beauty
grace is the color of beauty; the color of dreams.  grace is seeing the beauty in everything and the beauty within.  grace is thinking of others first, blushing at the thought and counting your blessings.  grace is pretty on the inside and the outside.  grace is uplifting.  where there is grace, there is beauty.
inspired by philosophy's best-selling fragrance, amazing grace, the color of grace is makeup that embraces your inner girl with all things pink and beautiful.  philosophy created skin-loving formulas in perfect pink shades that deliver sheer color and heavenly luminosity for a look that is soft, graceful and inspired.
everyone looks prettier in pink lighting.  the color of grace is universally flattering and created for all women who want to feel sweet, kind, pretty and feminine.
Two new additions to this gorgeous, alluring collection include The Color of Graceâ"¢ Eyelighting Shadow Duo in Heaven / Earth
and The Color of Graceâ"¢ Angel Kiss Lip Gloss in Pretty Please
.  Philosophy was kind enough to send me both for review so I could share my thoughts with you gals.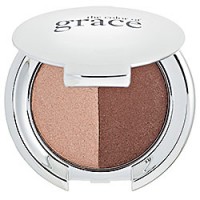 sheer washes of color that light up the eyes with delicately shimmering minerals ($22)
This delicate duo pairs two flattering, summer friendly shades in one adorable compact that features a handy mirror built into the lid.  Both shades will pair well with a tan and are great for taking on vacations where you'll want to do your makeup in a snap but still achieve a great end result.  I gave this compact to a friend who's just getting into makeup, as the shades are great ones to play with if you're a makeup newbie – inviting, rather than frightening!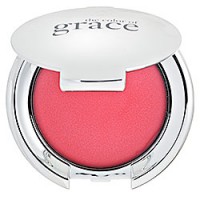 lip-loving gloss that blends high-shine, sheer color with lip-caring goodness.  the formula contains lip plumpers, acai berries, pomegranate and shea butter to enhance the fullness, softness and natural rosiness of lips, while a hint of vanilla-mint flavor refreshes the breath.
This is my new favorite and my go to gloss.  Like the shadow, it features a mirror in the lid, which makes touch ups super simple.  The gloss itself is a creamy gel that isn't sticky or unpleasant – just soothing and shiny.  The tint is light and very natural so it's great for daytime looks or casual evenings out, and there's no heavy, made-up look to it.  The smell is very pleasing and not at all artificial like many of the lip glosses in my stock.
I'm incredibly impressed with the quality of these cosmetics, although I'd expect nothing less from Philosophy.  After all, you ladies know that I can't speak highly enough of their fabulous body washes.  I recommend checking out the items I mentioned above, as well as the rest of the collection.  Happy shopping!