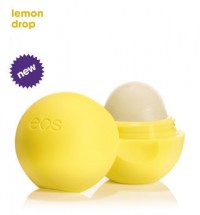 "eos, the innovative personal care brand, expands its lip balm product range with its lemon drop SPF 15 lip balm smooth sphere.  Packed with antioxidant-rich vitamin E, soothing shea butter and jojoba oil, eos SPF 15 lip balm conditions lips and keeps them feeling smooth, soft and refreshed.  Pamper your lips while you protect them from the sun, with broad spectrum UVA protection that's PABA free.  The ground-breaking smooth sphere has remarkable packaging that is soft-t0-the-touch and easy to use.  Glide on some eos and show your lips the light."
I few months ago I picked up an eos lip balm sphere in sweet mint.  Ever since, it's been in my nightstand for constant application.  I love the cute egg shape and screw off top, the dome shaped balm, and the moisturizing formulation.  It keeps my lips smooth and tingly and has quickly been a favorite lip care product.
The lemon drop flavor is even better than the mint…  So now they're competing for my affection.  My chronically dry lips are grateful for the eos lip balm bounty, and I'm very happy I received the lemon drop for review!  Its key ingredients are jojoba oil (provides long-lasting moisture), Shea butter (moisturizes, softens, nourishes), and Vitamine E (provides antioxidant protection; soothes and heals).  The product is also petrolatum and paraben free, and packaged with recyclable materials.  It's more hygienic than pot lip balms, as you don't need to touch the balm with anything but your lips.
Eos lip balm spheres are also available in honeysuckle honeydew and summer fruit.  They retail for $3.29 and are available at Walgreens, Rite-Aid, Duane Reade, and online
.  The lemon drop flavor will be available beginning in May 2010, so you may be able to snag one in time for Mother's Day – as a little extra treat for Mom!