Indulge your sweet side with this bounty of beauty delights for the body & soul.  Sumptuously scented and abundant in goodness, this range of heavenly products is a feast for your senses that your body will love you for.  Utterly enticing, these Sweet Treats have all of the yummy & none of the naughty!
The Sweet Treats collection is available in five fragrances, including:  Ginger Apple, Cotton Candy, Peach Blossom, Pomegranate (pictured above), and Vanilla.  Each scent is available in multiple products, such as lip balm, butter cream, parfum, soap, candles, and gift sets.  The packaging for each item is exquisite, with beautiful designs and sweet colors.
I received three pieces from the Pomegranate collection:  creamy vegetable soap, lip balm, and butter cream.  I haven't even wanted to open or use the products because the packaging is so gorgeous I feel like I should just be happy to look at them!
Lip Balm ($8):  Soothe & hydrate lips with our nourishing Lip Balms.  Enriched with natural Beeswax, Sweet Almond oil, Olive oil, Shea Butter and the added benefit of Vitamin E to keep lips soft & glossy.  Also includes sunscreen for extra lip smackin' protection. The tin this balm comes in (top left) is a treat in itself, and looks beautiful on my nightstand.  The balm smells amazing, just like fresh pomegranate with a bit of sugar.  It feels great on my lips and provides hours of hydration.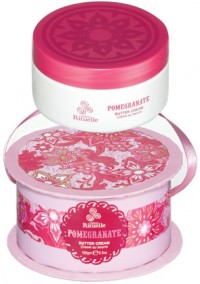 Butter Cream ($20/3.5 oz):  This rich, buttery body cream is infused with a playful blend of sweet fragrances that are good enough to eat.  A skin nourishing recipe of emollient rich Shea Butter is mixed with a generous blend. Once again, the experience is amazing beginning to end – beautiful packaging, high performing product!  And of course, I love the smell!  It's not overwhelming or artificial, which is a big plus.
Creamy Vegetable Soap ($6/3.5 oz, $9/7.1 oz):  This creamy vegetable soap is blended with a nourishing formula of vegetable oils and moisturising Cocoa Butter for a super rich and creamy layer of bubbles.  Skin conditioning Glycerin & Vitamin E are added to help promote soft & supple skin.  This divine bar will not only leave you clean, it will leave your skin feeling softer and you'll smell delicious all day!  Each bar soap is lovingly hand wrapped with our unique gift paper and is ready for gift giving. I don't use bar soap, so I passed this onto a friend who does.  I could smell the scent through the packaging (which was gorgeous, of course) and love the ingredients it features!
Urban Rituelle products are a perfect idea for Mother's Day, as moms often take care of everyone but themselves!  These products are also great for friends with Spring & Summer birthdays, or just a treat that you surely deserve!