This is a Sponsored Post written by me on behalf of Bloomingdale's. All opinions are 100% mine.
I've been hosting many fabulous contests and giveaways lately – but I'm not the only one!  Bloomingdale's (and famed handbag designer Rebecca Minkoff) is currently running a fabulous promotion on their site.  Recently I discovered their Tote-ally Green design contest and am excited to share it with you gals today!  All you have to do is log onto their website and use a few easy tools to design a fun tote, preferably with an eco-friendly theme.  And no worries – if you already have a great image to use, you can upload that as well.
So, are you wondering what's in it for you?  Viewers will vote on their favorite submissions every day and one winner will receive a $100 gift card!  Then, submissions will be whittled down to fifty fan favorites, and one Grand Prize Winner will win a $2,000 shopping spree and their winning design will be sold at Bloomingdale's nation wide!  Also, the entrant with the most votes may also win a $1,000 shopping spree.  The contest is open now and will end April 25th, so make sure to get your entries in!  You can share on Facebook, Twitter (make sure to use hashtag #bloomies), etc. to share with friends and nab more votes, too.
I spent some time on the site earlier designing a tote for submission.  Try not to judge my artistic skills…  I tried!  The flowers are pretty, right?   Right…!?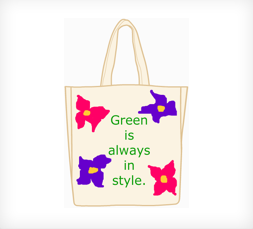 A great tote is always in style, and wouldn't it be fun to have one you designed yourself?  Get your entries in, gals, and feel free to share the link to your creation here so I can check it out!