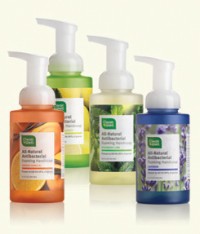 "Hands down, personal hygiene is top of mind and bacteria is about to face some clean competition.  Hand sanitizers and soaps are quickly selling out on shelves nationwide, almost as fast as they are fighting against microbes and bacteria on you skin.  On the natural front, CleanWell is the only range of hand sanitizers and soaps proven to kill 99.99% of germs without using alcohol, Benzalkonium Chloride, Triclosan, or other toxic chemicals.
CleanWell travel friendly hand sanitizing sprays, soaps, wipes and foams are made with ingredients from renewable plants, primarily thyme.  With a first-of-its-kind natural chemistry, CleanWell proudly introduces a unique formulation of plant essential oils proven to meet FDA standards for 99.99% germ killing efficacy, and a safe and effective natural alternative to the toxic ingredients found in most antibacterial and sanitizing products.  CleanWell products also do not include the controversial ingredient, Triclosan, widely used as an antibacterial in household hand sterilization products.  Triclosan is known as an endocrine disruptor, a synthetic chemical that when absorbed into the body either mimics or blocks hormones and disrupts the body's normal functions."
CleanWell All Natural Hand Sanitizer are available in Orange Vanilla and Cleanwell's Original scent, and the Soaps are available in Orange Vanilla, Ginger Bergamot, Lavender, and Spearmint Lime.  Hand sanitizers are priced at $2.99 – $3.50 and soaps are $4.99 – $6.49.  In honor of Earth Month, however, CleanWell products are a whopping 30% off!  Use code "ED10" at checkout to get the discount.
CleanWell sent me their soap in Ginger Bergamot, Lavender, and Spearmint Lime.  I was very excited to receive the package, as I HATE the smell of my current soap – it's super strong and lingers long after I've washed my hands.  CleanWell's soaps each have a great, distinct smell, but not one that's overpowering or super long lasting.  There's no telltale soap smell when you leave the bathroom, giving away what you might have been doing!  It's just a nice smell while you're actually washing your hands, and then you can go about your day.  I also really love the foam formula, and prefer it over gel soap.  My hands feel clean afterward and I feel good knowing that I'm using a natural product to kill germs without harming my body.
I highly recommend picking up your own CleanWell products, especially while they're on sale!