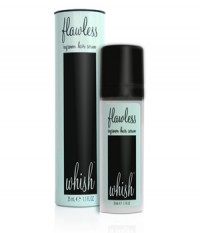 Recently, I posted the clinical results of a double blind study on Whish's Flawless Ingrown Hair Serum.  I wont bore you by doubling up on all the details, but here's some of the important info:
Flawless reduced ingrown hairs by 34% over a 4 week period vs. 9% for the placebo.
Percentage of participants noticing improvement:
Prevented occurrence of ingrown hair – 89%
Helped soothe inflamed skin – 100%
Reduced skin redness on shaving – 100%
Overall appearance of skin – 100%
I don't suffer from ingrown hairs, but I do get a rash-like spread of tiny red bumps all over my legs each time I shave.  It's something I forgot about over the winter since I was never usually wearing pants or tights – but now it's Spring and I'm baring my legs.  The bumps keep my legs from looking presentable after being shaved, and the hairy-legged alternative is equally undesirable.
When I asked Whish if Flawless was a product that would help with the problem – and was answered with a resounding YES!  They sent me a sample to try out, and upon receiving it, I promptly hopped in the shower to shave and get to testing.  After taking care of business, I slathered two pumps of Flawless on each leg.  The gel is cool, thin, and just a tiny bit sticky.  It's not unpleasant at all, and it dries quickly.
The results?  I applied the gel before I went to bed.  When I got ready in the morning, the ugly red bumps were almost entirely gone!  In fact, they were so small that anyone who wasn't looking at my legs close up wouldn't even notice.  I've shaved again since then and reapplied the gel – and both times I've had fantastic results.  At least an 80% reduction in redness and bumps, although that's not a scientific percentage!