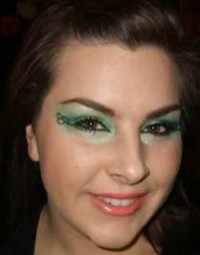 St. Patrick's Day is almost here! Celebrations are starting early, so get the perfect holiday look for the festivities!
Lauren Luke, the famed YouTube make-up artist, creates this fun and flirty St. Patty's Day look in the new video tutorial, which can be found here.
I love the shimmery green and the clover at the corner of Lauren's eyes.  I'd fill in the leaves an add some glitter – but that might make the look a little too over the top!  I love the lip color she chose to use for the look and think the shades are a perfect pairing.
Happy St. Patrick's Day!  Be safe, ladies!