"Pampers has completely redesigned its Cruisers diapers making them 20 percent thinner with no sacrifice in performance. They are the brand's 1st diaper for the best players in the worldâ"¢ – babies! The new Pampers Cruisers with Dry Max help lock wetness away up to 12 hours, making this their driest diaper ever. They'll officially hits shelves in March."
I know "Because Moms should look good, too!" is The Fashionable Housewife's line…  But I'm borrowing it for today, because I know I've got some moms in my audience.  If you're not a mom, you can enter, too – the Liz Lange bag is fabulous and can easily be used as a school bag!  Don't throw the free diaper coupon away if you're a non-mommy winner; give it to a friend or redeem at a grocery store and drop the diapers in their collection bin!
About Pampers Swaddlers & Cruisers with Dry Max:
Pampers with dry max are better for everyone – babies, moms, and the environment (aka the rest of us)!  They're Pampers driest diapers ever, and with their revolutionary Dry Max technology, they lock in wetness for up to 12 hours.  They're thinner, which gives babies more freedom to move and play – and makes them easier to carry and store.  They're also softer, and softer means better!
If current Pampers Swaddlers and Cruisers users switched to Pampers with Dry Max, "they could together throw away the weight of a billion less diapers every three years."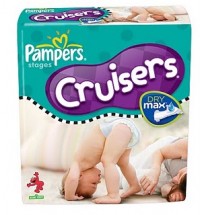 Pampers Cruisers with Dry Max also has:Â  softer outer cover, tapered design, Sesame Street characters, same price as current Pampers prices.
About the Dry Max Technology:  it's the "engine" or core of the diapers.  It "allows for the removal of the airfelt found in current Swaddlers and Cruisers, resulting in a thinner and less bulky core.  The thinner core is enabled by the new Absorbent Gelling Material, removing the need for airfelt.  The AGM is more permeable, meaning it locks wetness in faster."
Decreased Environmental Impact:
-12% Reduction in Solid Waste
-8% Reduction in Total Energy Demand
-23% Reduction in number of trucks, compared to previous usage
-This can amount to an estimated reduction of 2,278 trucks, 683,400 gallons of fuel, and 4,100,400 miles per truck fuel capacity per year
Disclosure:Â  I did receive free diapers from Pampers, though I do not have children – just so I could check out the new design!
*ABOUT THE BAG* Liz Lange designed this bag in collaboration with Pampers, and it's available in limited quantities.  You can purchase it for $50 from ebags.com (here).  It's microfiber with leather trim and the perfect size for toting diapers or school books!
BUY IT:  The Liz Lange bag was designed specifically for Pampers, so you won't be able to purchase it!  The Pampers Swaddlers & Cruisers with Dry Max are available at your normal Pampers retailer.
WIN IT:  One lucky winner will receive the Pampers exclusive Liz Lange diaper/school/handbag pictured above, as well as a coupon for a FREE pack of Pampers with Dry Max.  This contest will run until March 24th, 2010, 11:50 PM EST.  US Residents only, please!  Leave a separate comment for each entry and live a direct link to tweets and postings.
Mandatory Entry:  What's your favorite benefit of the new Pampers Dry Max that I discussed above?  If you've tried them already, what do you think?
Extra Entries:
If you have children, tell me their ages.  If you don't, tell me who you'd give the free diapers to! – 1 Entry
Fan Pampers on Facebook – 1 Entry
Fan The Fashionable Gal on Facebook – 1 Entry
Follow @PampersVillage on Twitter – 1 Entry
Follow @FashionableGal on Twitter – 1 Entry
Blog about this giveaway – 5 Entries
Tweet this giveaway using the following text, or create your own.  1 Entry per Tweet, per day!
Win an exclusive designer bag from Liz Lange AND a free pack of Pampers with Dry Max from @fashionablegal http://tinyurl.com/yatxfq2