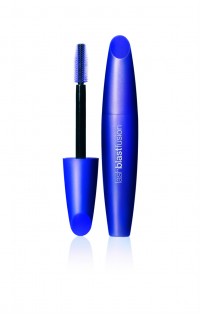 COVERGIRL'S first volume and length mascara, together in one step for lashes with bold volume and stunning length!  Experience the best of both worlds!
CoverGirl LashBlast Fusion Mascara will be available nationwide beginning April 2010.  For those of you who can't wait, however, there's a presale happening until April 5th, which features *free shipping* – which means it's actually cheaper to buy online, since you won't spend any money on gas!  The retail price is $8.99 and LashBlast Fusion will be available in Very Black, Black, Black Brown, and Brown.
So what's the deal with LashBlast Fusion?  First, it features a "super-volumizing brush." It's CoverGirl's "biggest brush ever, designed to max out each and every lash with intense volume for a big, bold look".  It also boasts "flexible bristles [that] conform to the lashes for great coverage and a smooth and gentle application."
The new Fiber-Stretch Lengthening Formula "works together with the super-volumizing brush to deliver up to two times the volume and length.  [It] contains lash stretching fibers and lash plumping particles to create a dramatic fan of lashes.  The buildable, lengthening formula works to extend each lash."  AND it's smudgeproof and rubproof!
~The perfect fusion of volume AND length for dramatic lashes that make a statement ~
~Thickens and extends each individual lash for high volume, length and perfect separation
~Achieve clump-free lashes that won't flake or break off
To find a presale e-tailer, visit CoverGirl's Facebook Page.
Below is a short video featuring makeup artist Pat McGrath backstage at an Anna Sui show – using CoverGirl's LashBlast Fusion!