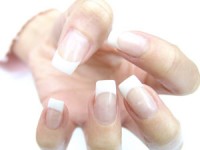 I've been on a bit of a nail bender lately.  Nail polish, nails at NYFW, acrylic nails…  Whatever's new and fabulous, I've gotta get my hands on it – pun totally intended.  So when I learned that Kiss & Broadway nails were putting out some fab new pre-designed nails for Spring?  You know I was all over that.  I received several pairs of these new acrylics to test out; below is a breakdown of my faves.  No pictures of them on; I've been doing nail polish swatches for other posts!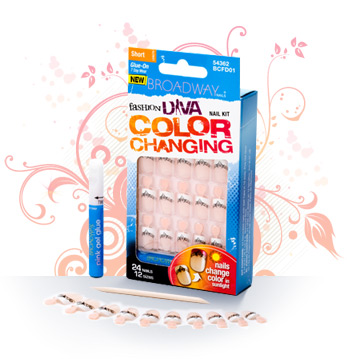 In time for some spring flings, Broadway Nails introduces new Fashion Diva Color Changing Nails – on shelves nationwide in March.  Simply walk outside and have a whole new look!
Fashion Diva Color Changing Design Nails adjust their color in seconds when exposed to sunlight.  The technology behind these new funky nails is a market first.  Have fun discovering how nails change designs from indoors to outdoors.
Yes, you read that right.  These nails actually change color.  Seeing these totally brought me back to discovering mood rings (and mood polish) in grade school.  This is a more sophisticated version of that same style – and excitement – and is pretty much a hundred times cooler.  I have the set above, which feature sweet stars; there are three other styles available that range from somewhat subtle to totally eye catching.  They retailer for a totally affordable $5.99!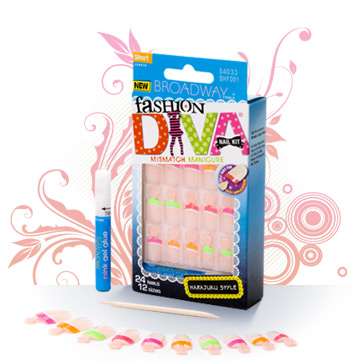 It's time for a "Mismatch Manicure!"

Don't conform, mix it up! This Harajuku-themed manicure focuses on mis-matched designs and patterns in bold brights.
Neon is a top trend for Spring & Summer and a great way to spice up your manicure.  Add a little rainbow to your manicure by mixing and matching these four sweet shades, which feature a strip of glitter for a little extra glamour.  I'm particularly partial to the lime green.  There's also a plaid version of the set available.  Each set retails for $6.99.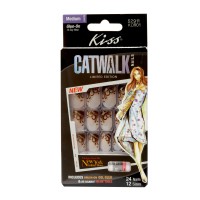 Off the runway and onto nails, these four new designs are perfect for those who like to get creative!
And to get feet into perfect shape for Spring, Kiss offers a new design for toes!  Catwalk Toenails are available in a silver flower French style.  An easy fix for winter pedicure blues!
I usually paint my acrylics, but all these new styles are saving me the trouble!  The new Catwalk Nails from kiss are very retro-glam, Lady Gaga-esque – lots of glitter, vibrant colors, and flashy patterns.  I've never worn artificial toenails and I'm a little weirded out by the idea…  But my feet look like crap, so I'm contemplating it. Each set retails for $6.99.
All of these styles are available at major drugstores nationwide, some grocery stores, Kmart, and wherever else you normally buy Kiss & Broadway products!
Which pair is your favorite?  Do you wear artificial nails?  What about artificial toenails?