Today's confession:  I'm addicted to tights.  Since I sold a bunch of clothes to pay some bills last year, I don't have many skirts or dresses to wear them with…  Which has made me very sad.  I recently purchased a gorgeous skirt (on clearance!) from Torrid and have enjoyed getting to show some leg tight when going out recently.
When a lovely lady from Tightsplease emailed me about doing a review (and giveaway!) of the merchandise offered by her company, I jumped at the offer!  Unfortunately, the tights I received were too small, so I haven't been able to wear them – yet!  Fingers crossed that I'll be able to fit into them in a few months – if not weeks.
In any case, we can still chat about the range and quality of tights offered by Tightsplease – and of course, you'll get your chance to win some of your own!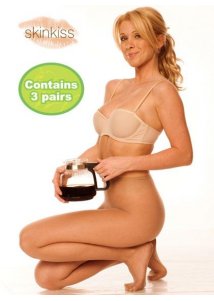 The first style I received was the Skinkiss Caffeine Tights.  Yes, you read that right – caffeine tights!
These caffeine tights have microcapsules of caffeine which are released into thighs, bottom and legs. This increases the metabolic rate and the burning of fat. They have been shown to reduce fat and the circumference of thighs up to 2cm. They can even help with the dreaded cellulite "orange peel" effect!
Each pair can be washed 5 times before the caffeine effect wears off. They take 2-4 weeks to see the full effect. Three weeks before you travel, start wearing Caffeine tights. They come as a three pair pack and need to be worn in rotation over the three weeks to give you smoother, slimmer thighs. Thighs become slimmer by an average 2cm and the weight stays off! Ladies often notice an improvement in the look and feel of cellulite in the first couple of days.
Since mine are a tad too small, I haven't been able to wear them yet, as mentioned.  However, the reviews on the site are ALL positive and the results described are amazing!  *Note:  If you check out the reviews, the product has a rating of 3.6 stars.  If you look at the actual reviews, this is because several reviewers who left positive comments forgot to give a star rating!*
These tights are available in Nude and Black, sizes Small to Extra Large.
The next pair I checked out was a pair of the Denier Opaque Tights in Purple.  There are a whopping 21 colors available, including a lime green that I'm incredibly envious of.
One of the hottest looks seen on the catwalks this year, bold bright legs are definitely a must. Luxuriously soft and comfortable – perfect for everyday wear, these Jonathan Aston bestsellers are now available in a beautiful array of sweetshop colours.
I adore colored tights; they were a staple of my wardrobe in high school.  I had to wear a plain, boring uniform for all four years, and the only way to add a real pop to the look was tights!  I had every color and pattern you can think of, and seeing these Denier tights brought me back to that fun.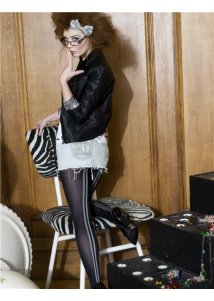 The third pair I received was a style that's relatively new to Tights Please – the Addy style by Red or Dead.
The racer back-seam is the hottest essential statement piece of the season. Red or Dead have added their own unique twist to the trend resulting in a fabulous new look versatile piece. The wardrobe staple being the sheer black tights have been transformed with a funky edge!
The stunning Addy Tights incorporate a classic look with a jazzed up edge. This piece looks fabulous and eye-catching. Easy to wear and affordable, they can transform any outfit giving your legs the statement they deserve. They also have the added bonus of vertical lines which have the effect of making your legs look like they go on forever!
I'm a big fan of anything that makes my legs look longer or slimmer, which vertical lines really do!  I'm often tempted to wear my exercise pants out because of their slimming effect – but that wouldn't be so chic.  If you're wearing tights, you're showing off your legs, so lengthening them is a fabulous bonus these tights provide.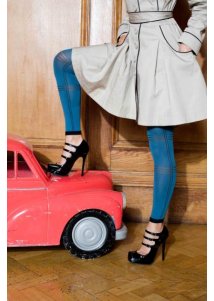 The last pair of tights I received was the Una Footless style, also from Red or Dead.
The glamorous Una Tights, designed by Red or Dead exclusively for Tightsplease are an exact sentiment of the brands vibe. The fully opaque tights are almost leggings and include a beautiful sheer stripe detail that runs throughout the leg.
This strong statement piece proves a prime example of true individuality of the brand whilst demonstrating its high fashion influence. Easy to wear and on trend, the Una tights are an essential piece to get you noticed.
I love footless tights paired with sweet Spring dresses and fabulous pumps or adorable sandals.  The Una style is available in four colors, including the blue above – perfect for the season!
If you're in the UK, you're in luck – Tightsplease offers free shipping in the UK!
Now for the giveaway:  10 Winners will receive their very own Addy Red or Dead tights, courtesy of Tightsplease!  Entering is super easy – all you have to do is visit this link, which is the official giveaway page, and enter your email address – then you're done!  The giveaway will run until April 15, so good luck!