Tights, tights, tights.  Tights got me through most of high school.  I went to a school with a bland, unappealing uniform and rigid rules.  Tights, however were my loophole.  I could wear tights in any color, pattern, or style I wanted.  They were the highlight of getting dressed each day.
Unfortunately, finding tights in all the colors I wanted was difficult.  Finding tights that fit comfortably and didn't strain on my plus size silhouette was a challenge as well.  The one brand I did find to be well fitting didn't offer all the colors I wanted, and brands that made those colors didn't make big enough sizes.  What a drag!
Of course, the internet is an amazing place.  Ask and you shall receive.  So when I Googled "plus size tights" I wasn't surprised to discover "We Love Colors" – but I was delighted.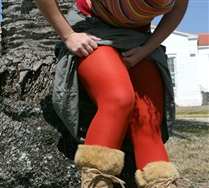 The brand offers 51 shades of solid color tights, plus striped, patterned, and fishnet styles.  I'm particularly fond of the solid styles, as they help the eye glide down my leg and aid the appearance of it being slimmer and longer – especially in high heels.
We Love Colors sent me two pairs of tights to check out, in Hunter Green and Aqua.  The tights are soft, high quality, and incredibly comfortable.  They provide a bit of tummy control, and prevent the chafing that happens when I wear a dress or skirt and sport bare legs.  Plus, it totally doesn't matter if I shave – shhh!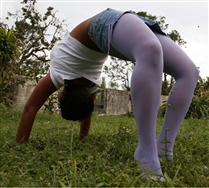 As the temperature begins to lose a bit of its bite, but doesn't exactly become balmy, tights are a great way to get some early wear out of your cute Spring dresses.  Stylish, boyfriend style shorts and capri pants (although I don't recommend capris if you're plus sized) are also an adorable pairing.  I've seen several fashion forward ladies wearing menswear style shorts, tights, and boots lately – I love the look!
We Love Colors sells tights for women, children, and men (yes, men).  However, that's not all they do!  The brand also offers a wide selection of thigh highs, knee highs, socks, gloves, dance wear, and the like.  The trend of fabulous colors and patterns continues throughout all these categories, which means that you're more than likely to find what you're looking for.