"Style Your Trip this summer with the help of Ciao Bella Travel. If you're planning a romantic weekend away or simply a getaway with the girls, then look no further than Ciao Bella Travel's fantastic holiday accessories range. From clothing to toiletries and fold-up designer flats, Ciao Bella Travel will have you looking great at a pocket-friendly price. Kirsty Keane, Ciao Bella Travel's Director says the best way to plan the perfect holiday suitcase is to think about all the different things you will be doing on your break (drinks, cafe breakfast, beach, sight seeing) and jot down a packing list so you can stock up on your summer accessory essentials before you depart!"
Kirsty's top 5 products this Summer are:
Cleanser/Toner/Moisturiser Single Shot Tin (pictured below)
Annabel Trends Jewelery Traveler
Apple & Bee Pencil Make Case
A stunning, non-crushable dress
A sarong in this seasons colours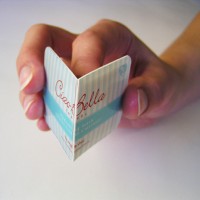 All of these items and many more are available on Ciao Bella's site.  I'm particularly enthralled by the "single shot" beauty products!