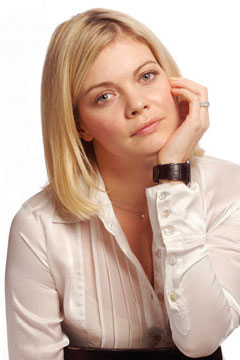 This is the last of the Jemma Kidd makeup tips, so I hope you've been enjoying them!  Today's post tackles some of the biggest beauty issues, and most classic styles.
How to get Well Defined Brows:
I struggle with my brows every morning, as they're just about non-existent and I have to draw them on.  Depending on my mood and the amount of sleep I got, you can probably imagine the disasters that often occur.  For those of you gals lucky enough to have actual eye brows, here's how to make 'em look perfectly polished!  Apply powder first, brushing it into the brow to make it look fuller.  Start a shade lighter than your brows so they won't look comical or over done.  Build them up naturally, darkening the color if necessary.  Also, don't start right at the front of your brow, or they'll look to harsh.  Finally, add foundation/concealer or a highlighting matte shadow around the brow to make it look clean.  Adding a highlighter right under the brow will make your eye look bigger and brighter.
How to get Dewy Skin:
It's a challenge to get gorgeous, glowing skin without winding up with the unsexy sister, greasy skin.  To keep the oil at bay but still look like a goddess, wash your face with an oil control product.  Blot your face with oil absorbing tissue.  Next, mix a skin highlighting product into your daily moisturizer.  Apply foundation over this, and it will create a "time delay," where the glow will come through your foundation gradually.
How to Wear the Classic Red Lip:
Red lips are a major statement, so don't overpower your face by having too much blush or shadow on at the same time.  Define your brows using the method above, and pair with a simple line of liquid eyeliner.  All other makeup should take a back seat to your lips, so keep your liner and brows crisp; skin should also be matte or just slightly dewy, as described above.  Before adding any lip products, make sure that your lips are well hydrated with a balm.
Line lips to prevent feather and an uneven wear-off.  Rather than going for the usual lipstick, which is high maintenance and easily overdone, consider other options.  You can dilute lipstick with gloss or balm to make it more comfortable and less maintenance, or skip the stick entirely and just wear the red balm or gloss.  Also consider a lip stain, which will last for hours and give your mouth a sexy, natural, "bee-stung" look.  Dab foundation around your lips to further prevent any lipstick bleeding and keep your mouth well defined.
How to Wear Nude Lipstick:
Nude lipstick should be a tone deeper than your skin, as it shouldn't disappear into your face and leave you without a mouth.  Use a color that's warmer to provide contrast.  To keep the look modern, add a touch of gloss.  If you prefer a matte finish, make sure skin is well hydrated so you don't look too flat.