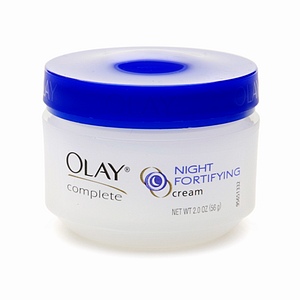 Back in the fall, I received some Olay products to review.  I've already written about several, and have been enjoying all the Olay products in my beauty routine.
Olay Night Fortifying Cream nourishes, strengthens, and protects skin while I sleep.    It nourishes through replacing lost fluids with a lightweight moisturize, helps to strengthen skin's natural moisture barrier, and protects through a minimization of moisture loss.  The Night Fortifying Cream is packed with green tea extracts, aloe, vitamin E, vitamin B3, and pro-vitamin B5.  It's a non-greasy, non-comedogenic formulation so it won't irritate sensitive skin or clog pores.
I usually don't bother with night cream, but I love the Night Fortifying Cream.  It's silky smooth and leaves my skin refreshed and ready for morning.  At first I thought it wasn't going to be hydrating enough, because the cream is very light and thin upon first touch.  Once I rub it into my skin, it feels thicker and creamier.
If you're not using a night cream, you're doing your skin a great disservice.  Your body replenishes and restores at night, skin included.  Adding a moisturizer into the mix gives your skin more nutrients to work with.  The result?  Better looking skin in the morning!
Olay Complete Night Fortifying Cream $14.99