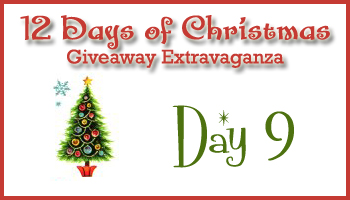 It's that time again!  It's Day 9 of the 12 Days of Christmas Giveaway Extravaganza!  We're nearing the end of our giveaway announcements, so make sure you've been keeping up and getting your entries in!
Today's giveaway is sponsored by M2, courtesy of SkincareRX.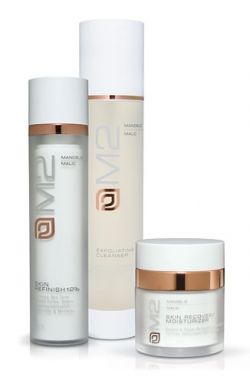 "Picture yourself with clear, flawless skin. Even if you find that your skin cannot tolerate strong or exfoliating skin care ingredients, M2 Skin Technologies recently released the Skin Refinish 12% formulation that is specifically targeted for those with sensitive and rosacea-prone skin. When used in conjunction with the Exfoliating Cleanser and Skin Recovery Moisturizer, it completely renews the skin without being harsh.
The products contain both Mandelic and Malic Acids that offer beneficial anti-inflammatory properties and skin-protective qualities that will make a noticeable impact on your complexion. Mandelic Acid is naturally antibacterial, making it a must-have for acne-prone skin. Malic Acid is a natural humectant and antioxidant, and keeps the skin protected throughout the day. The three products work together to comfortably promote an even skin tone, reduce breakouts, fade acne scarring, and smooth fine lines and wrinkles by resurfacing the skin – without causing further irritation and stress."
I have incredibly reactive skin that often becomes inflamed with little or no reason.  Wearing a heavy layer of makeup to cover the redness is often the only option, but that clogs my pores.  Since the M2 Sensitive Skin Collection Bundle contains products formulated to deal with redness and inflammation, I was excited to have the opportunity to review it.
M2 Exfoliating Cleaner:  I enjoyed the cleanser contained in the skincare bundle.  It's a little more "soapy" than I'm used to with a face wash, but it left my skin feeling incredibly clean.  My skin is also often oily, and the Exfoliating Cleanser did a great job of getting rid of the build up and leaving my skin reading for the next treatment steps and makeup!  A little bit goes a long way and there's great lather, which is something I enjoy.
M2 Skin Refinish 12%:  This is a nighttime only product, which is to be applied every other night before bed for the first two months of use.  It makes my face incredibly red so there's no going out after applying it – make sure you're definitely ready to stay in for the night!
M2 Skin Recovery Moisturizer:  This moisturizer is aptly named, as my skin is in desperate need of some moisture after the Skin Refinish!  It's not actually drying, but makes my face feel a little bit saran-wrapped.  The moisturizer doesn't feel particularly rich, but once applied, my skin feels refreshed and nourished.  Plus it has a soft smell that I really enjoy!
The three products used together are a great skincare routine.  My skin has been significantly clearer since using the M2 bundle, and I actually have noticed less redness.  Since I haven't made any other changes to my skincare or diet, I believe it's thanks to the M2 products!  They are a little bit strong for my skin, so I alternate them with a few more gentle products to keep my skin happy.  It's so nice not to be red all the time!
Also, I'm a huge fan of the packaging.  I don't care too much what the outside of my products look like, as long as the inside does its job – but the M2 products are actually gorgeous!  It makes them feel even more luxurious and fancy to use.
One of you lucky ladies will win your won M2 Sensitive Skin Bundle with the Exfoliating Cleanser, Skin Refinish 12%, and Skin Recovery Moisturizer – a prize worth $90.49.
Mandatory Entry:Â  Tell me why you'd like to try the M2 skincare bundle, or who you'd like to win it for.
Extra Entries (please leave a SEPARATE comment for EACH):
Entry – Follow @fashionablegal on Twitter
1 Entry – Fan The Fashionable Gal on Facebook
1 Entry – Subscribe to The Fashionable Gal via email
1 Entry (per day) – Tweet about this contest.  Leave a copy per tweet with a direct link to it.  Copy & paste the following:
"Win an M2 Skincare Bundle for Sensitive Skin – 3 full size products (ARV $90.49) from @fashionablegal http://tinyurl.com/yl5sjtr Ends 12/20!"
1 Entry (for each) – Enter any other 12 Days Giveaway on The Fashionable Gal and/or The Fashionable Housewife.
10 Entries (leave 10 comments) – Blog about this giveaway and leave a direct link.
5 Entries – Add the 12 Days of Giveaways Button to your web page.
DETAILS:  Contest runs from December 9 to December 20.  Last chance to enter is 11:59 PM EST December 20.  A winner will be contacted on or before Dec 31st, 2009 and asked for full name, along with their mailing address. If no response is given within 48 hours, a different winner will be chosen, so please be sure to check your email. Must be 18 or older to enter. Contest open to USA!