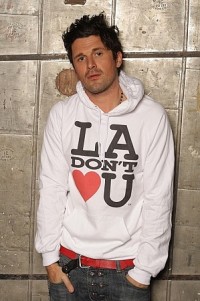 "We work hard to craft quality garments for you to throw up and bleed on."
"This statement, the de-facto credo of Los Angeles based line KID DANGEROUS GRIME COUTURE, exemplifies the sort of brash, irreverent aesthetic for which our brand is quickly gaining recognition.  Kid D presents itself as a unique middleground for consumers who appreciate the world of high-fashion but still look to dress outside the mainstream.  In today's world we see the lines between dressy and casual, preppy and punk, high and low fashion grow blurrier every day, and we believe our line is poitioned to embrace that shift.  We've pledged to put the garment first – providing quality products with stark, in-your-face graphics that connect to people on a deeper level than the typical knee-jerk response to a company logo.  While others have tried to use their name to sell the design, we're committed to using the design to sell our name.
Sincee securing our first account, the world-famous Kitson Boutique in Beverly Hills, California in June 2007, Kid D has enjoyed tremendous success in the marketplace.  Our brand is now carried in over 140 of the most prestigious boutiques and department stores in the United States and worldwide, including Bloomingdales, Nordstrom, Fred Segal, Kitson, Lounge NYC, and Free's Shop in Tokyo.
Heading into our fifth season, our current line features bold graphic tees and tanks, a wide variety of jackets and hoodies, leather and twill outerwear and more.  Kid Dangerous has been featured in numerous publications both stateside and abroad including US Weekly, Details Magazine, Glamourous, and Soup, as well as on several television programs including Access Hollywood and the MTV Video Music Awards.  Our brand also boasts a growing list of celebrity clientele, counting Jamie Foxx, Zac Efron, NaS, Robert Downey Jr. and Adrien Grenier among its ranks."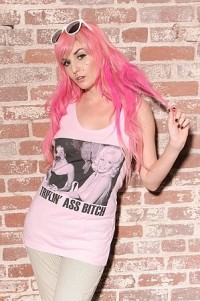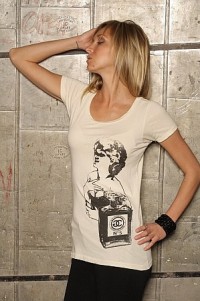 (Triflin' Ass Bitch – $44,  No. 5 – $48)
Kid Dangerous has an impressive list of celebrity fans, and while I might not be rich and famous, they can count me in too!  Y'all know I'm a self professed fan of sequins and sparkles, but I also love clothing with a different kind of flare.  Graphic print tees with a bite – that's what you'll get with Kid Dangerous.
The selection offered by Kid Dangerous is amazing; there's a selection to suit even the pickiest fashionistas.  I'm drooling over the ladies section, but equally intrigued by the mens tees (many styles are offered for both sexes).  What a life saver if you're still trying what to get your stylish man for the holidays.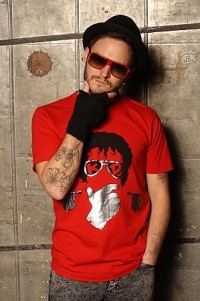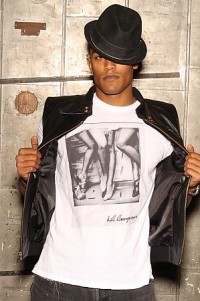 If your man is the type that loves graphic tees but has way too many of the old, scruffy, totally un-stylish type…  I think it's about time to introduce him to Kid Dangerous.  At least now if he skips the button up and tie, he'll look fantastic doing so!
To view the full lineup of Kid Dangerous tees, check out the KD online store.  Don't forget to take a look at the Sale Section!