A few weeks ago I posted about how Miley Cyrus uses Leonor Greyl products.  I'll be honest – I don't think I could possibly care less about what Miley Cyrus is doing.  BUT, she has amazing hair.  So her hair care routine is the one exception to my "ignore Miley" rule, okay?
I was lucky enough to score samples of Miley's hair trinity:Â  Mousse au lotus Volumatrice, Voluforme, and Eclat Naturel.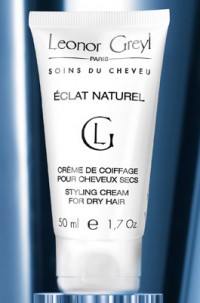 "Rich in shea butter, jojoba oil, vitamins and UVA/B filters, this styling cream helps protect your hair from the sun, while nourishing and reconditioning even the driest hair types.
How to use:
Start with small amount (pea size) and use more if needed. Apply to damp or dry hair to help detangle and sculpt hair. The hair can be shaped with fingertips, scrunch for curly styles or smooth down with a brush for a straight look."
Since I use at least two heated tools to style every morning, this is a great product for me.  I love that it's both a conditioning product AND a styling product; I think all the hair products I currently have are a treatment OR a styling product.  The Eclat Naturel has been a big hit with my hair, leaving it noticeably softer after styling.  I also really love the scent!  It's not strong or overpowering, just pleasant.  The Eclat Naturel has become a daily staple for me, and I use it every day to get the perfect style!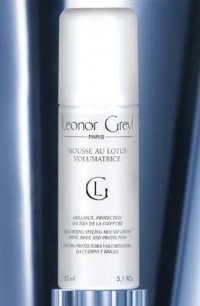 Mousse Au Lotus Volumatrice, $36
"The combination of oils and vegetable extracts such as Lotus known for its stimulating properties improves styling while providing shine, volume and hold to fine hair. Alcohol-free, it does not dry out hair or scalp and protects your color from the drying effect of blow dryers and the sun.
How to use:
Shake can, tip slightly and release mousse in your hand. Mousse will build slowly. Apply to damp or dry hair everyday is necessary."
I don't usually use mousse, but after enjoying the other Greyl products so thoroughly, I thought I'd give this mousse a shot!  Lo and behold, I definitely enjoy this formula – and I'm a huge fan of it being alcohol free.  It works really well with my short hair, and helps me keep it volumized and shiny, rather than flat and dull.  A total turn-around!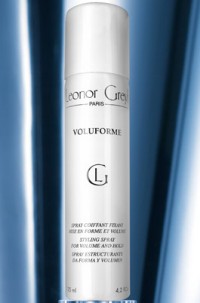 "Rapidly sets curls and adds volume at the roots. Controls unruly fly-away hair and results in superb shine. Hair is left feeling soft and silky to the touch.
How to use:
Apply on damp or dry hair and at roots. It helps prepare for a perfect set when sprayed onto each strand before using Velcro rollers. After application, lightly spray over all rollers, then dry and style hair."
I've been searching for a new hair spray, as an old favorite ran out and I love trying new things.  Voluforme has become my new favorite.  In fact, my usual styling products have been replaced by all the Greyl formulations!  The Voluforme is a tad sticky, but in a good way – it keeps my hair perfectly in place, but doesn't make it crunchy or leave residue on my hands if I touch it throughout the day.  I don't use rollers in my hair so I haven't tried setting it with the Voluforme, but it works wonders as a normal hair spray!
Leonor Greyl has a wide range of hair care products for all types of hair.  I highly recommend checking them out, and I look forward to trying more in the future.  And keep an eye out, as I'll be giving away a fabulous Leonor Greyl during the 12 Days of Christmas!