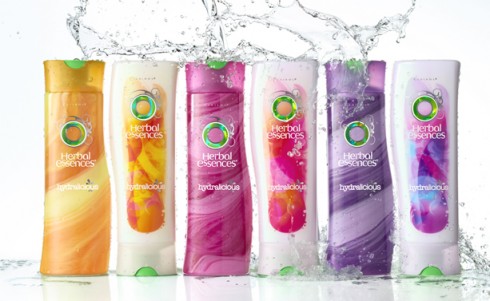 We've been over this, ladies.  I love Herbal Essences Hair Care.  Most recently, I gushed over the Tousle Me Softly Collection (which is still a fan favorite in my shower & styling routine).
Earlier this year, Herbal Essences released a new collection of shampoos & conditioners- the Hydralicious Line.  It contains three formulations of custom-swirled, super hydrating products:  Featherweight (yellow), Self-Targeting (pink), & Reconditioning (purple).
Featherweight:Â  Water Lily Nectar & Passion Fruit Extract, perfect for fine hair that needs body.
Self-Targeting:Â  Red Vanilla & Whipped Aloe, made for hair that needs some smoothing!
Reconditioning:Â  Shea &Hawaiian Sea Silk, intended for hair that's dry or damaged.
I haven't tried the Featherweight formulation, as my hair's rather thick and…  big.  However, I purchased the Reconditioning pair, and was sent the Self-Targeting set for review.  I was bummed to take a break from the Tousle Me Softly products, but was totally won over by the fabulous scent of the Self-Targeting Duo!  I love Vanilla.
What I really enjoy about these blends, aside from the fun color, is that they're extremely rich.  I knew the first time I got ready to lather up that I was going to be in for a treat, as the texture reminded me more of frosting that traditional shampoo.  How could something so creamy and delicious smelling NOT moisturize and refresh my hair?
Whenever I use these products, my hair is shiny and lush.  I know that the damage I do with frequent heat styling is balanced out by the luxury of these products.  Oh, and the boyfriend was excited to use them, too- he loves all the Herbal Essences products I've bought & reviewed before, and was just as pleased with these.  Actually, I think he looked forward trying them more than I did- he has very long hair that has a tendency to be frizzy & dry, so anything that provides some much needed hair therapy is good in his book!
The Hydralicious products, along with the rest of the Herbal Essences gang, are available in the usual places- drugstores, superstores like Target & Wal-Mart, grocery stores.  They're significantly less expensive that salon products, and in my opinion, deliver much better results!
I also totally recommend fanning them on Facebook to stay updated on the latest news, get coupons, and participate in giveaways!