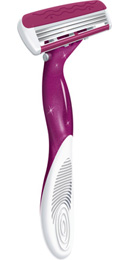 BIC has been providing reliable pens, but now they've got swag for more than just your schoolbag…  Okay, so BIC razors aren't brand new, but they're totally new to me!  I was sent several of BIC's finest, and they've become permanent residents in my shower.
My personal favorite is the Soleil Shimmer – it's pink and sparkly, just like my favorite lip gloss.
More importantly, the handle is amazing.  It contours perfectly to my hand, and even features an indentation for my thumb that makes the shaving process much easier to control.
The triple blade action also gives me a closer shave (the head pivots!), yet irritate my skin much less than my normal razor.  I still need to moisturize after shaving, but that's no big deal, as my legs no longer burn post-razor!  This is most likely because there's a Soothing Moisture Strip (enriched with Cocoa Butter) above the blades.
My only issue is that I feel the blades on these razors dull faster than other razors.  However, the more comfortable shave is worth the slight inconvenience of changing blades more often.
BIC has an extensive selection of women's razors, ranging from single to triple blade styles.  I prefer razors with reusable handles, but there's a variety of disposables as well!
If it's time to replace your razors,  print this coupon for BIC!  You can find them at your local grocery or drugstore, as well as superstores like Target or Wal-Mart.