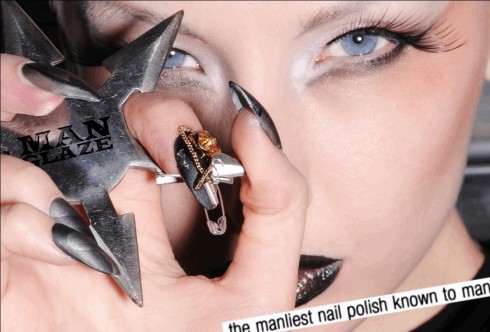 Matte Nail Polish has quickly caught on this fall, and every major nail company that I know of has been racing to put out the hottest matte shades (green and grey are my current faves).
I'm not a nail polish fanatic, as my nails are usually pretty disappointing…  Chipping and bending, so polish doesn't stay on more than a few hours.  However, a big boost of protein in my diet has helped create longer and stronger nails, so I thought I'd give the matte trend a try!
A few months ago, I won a Twitter contest and was rewarded with two bottles of ManGlaze Nail Polish– "The Manliest Polish known to Man."  The shades were black and grey, which meant that I quickly stashed them in favor of summery pinks and vibrant greens.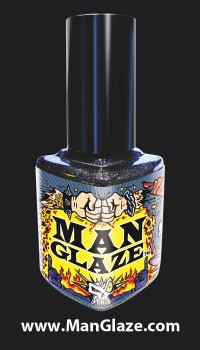 While browsing manicure photos for inspiration on Sunday night, I was struck by how much I liked the matte trend.  That's when I remembered the ManGlaze, tucked away in my nail bin.  I had either "Matte is Murder" (black) or "Fuggen Ugly" (grey) to decide between, and opted for what I ironically considered the prettier color- "Fuggen Ugly."
The results?  I am in love!  I thought my nails were going to look like I'd gotten bored and Sharpie'd them, but the ManGlaze polish has a definite depth to it.  It's matte, but it's not flat- and the grey is very rich, with a hint of sparkle.  The only downside is that I don't have one of the new "matte only" top coats, so I'm flying with only a base (Seche Vite).  Two days in and the only chips are on the inside corner of my thumbs, where I hit the space bar most often…  Which is, quite frankly, amazing.  As I mentioned, nail polish very rarely lasts for me!
If you'd like to try ManGlaze for yourself, both shades are available for a very manly $6.66 (plus Shipping & Handling) online.  The formulation is "Big 3 Free," so you'll be rockin' out the non-toxic way.  This is totally one of those "made for a man, tough enough for a woman" scenarios!
PS- You can follow @ManGlaze on Twitter for some tough manicure wisdom.