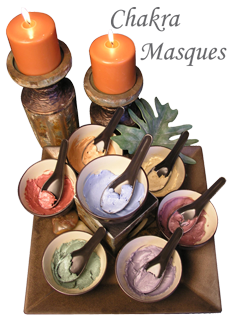 "Chakras originated in the ancient Hindu system of healing dating before 2500 B. C. The chakra system has been used for thousands of years as an integral part of holistic healing. The word chakra signifies one of seven energy centers in the body, corresponding to the seven main nerve centers which emanate from the spinal column. Each of the seven main chakras reflects essential aspects of consciousness and governs our lives, loves, learning and spiritual awakening. Energize your mind, body and spirit with VB Cosmetic's refreshing line of Abrioné Chakra Masques."
If you're unfamiliar with the Chakras, here's a quick breakdown of the colors and locations!
Chakra 3:Â  Yellow Solar Plexus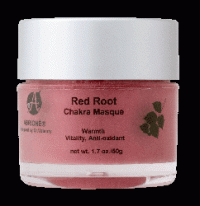 I was sent samples of two of the masks:  Red Root and Emerald Heart.  Both are formulated with healthy, natural ingredients that improve my skin's appearance and boost my mood.  They have an earthy, clay scent that's actually natural- quite refreshing after all the chemical smells I'm used to with my skincare products!
Red Root Mask:Â  "Our Red Root Chakra Masque contains pomegranate and prickly pear that contribute vitamins such as C and B which helps act as a natural anti-bacterial, helps against the sun and moisturizes your skin." It also contains ingredients like Green Tea, Sea Fennel, Canola Oil, Shea Butter, and Lemongrass Oil, each with their own benefits to skin's health and vitality.
Emerald Heart Mask:Â  "Our Emerald Heart Chakra Masque contains lavender which is thought to help relieve stress and also help anti-inflammatory and cucumber which helps regulate moisture and provide soothing and tightening effects to your skin." It also contains Parsley, Cucumber, Eucalyptus, and Shea Butter.
Cell Enhancer Hydrogel:  I was also sent a sample of the Hydrogel, to use with the Chakra masks.  It's a relatively thin, clear gel that feels quite refreshing on the skin.  The smell is very neutral.  "A soothing moisturizing gel loaded with pentapeptides, potent antioxidants and botanical extracts shown to help enhance new cellular growth and stimulate the production of collagen. Our Cell Enhancer Hydrogel Moisturizer contains all of these wonderful nutrients that help create the building blocks your skin needs to retain its youthful appearance. Our most popular moisturizer that helps fine lines and wrinkles appear smoother." The Hydrogel contains ingredients such as Green Tea & Sea Fennel.
I have very reactive, sensitive skin, so I look for natural ingredients to soothe the redness and other skin irritation I often suffer.  Using the Chakra Masks was a very pleasant experience that made my skin soft and calm.  I used them after showering, before I applied makeup, and found that my foundation went on smooth and easily.  I enjoyed the Hydrogel as well, as it felt like an extra boost of calming goodness for my skin.  It made me glow!
You can purchase the masks, Hydrogel, and other skincare products from Abrione here.  The Chakra masks are located here.  A 1.7 oz jar is $30, while the Hydrogel is available in various sizes.  You can also buy all seven shades & the Hydrogel in a tube that's wonderful for holiday gift giving ($37)!