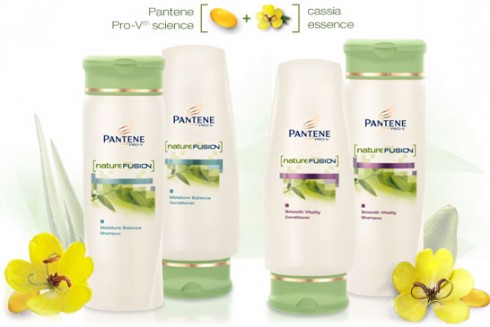 "A first for a Pantene shampoo–scientists used Pantene Pro-V Science to unlock the power of cassia essence to help give your hair strength and natural radiance.  This amazing fusion helps make fragile hair strong against damage in just 14 days.  Try the shampoo and conditioner system for damage protection leading salon brands can't beat.
Cassia, a naturally-derived ingredient in Nature Fusion, has 2 major roles in the shampoo.  First, it acts as a lubricating and replenishing layer, to condition and help repair hair's damage.  Second, cassia has distinctive characteristics that let it act as a delivery vehicle, helping silicone (or another ingredient) get to the hair surface.  Cassia, and other ingredients derived from nature, fuse with science to help strengthen hair against damage, especially when wet, while enabling protecting when dry."
Pantene Nature Fusion is available in two formulations:  Smooth Vitality and Moisture Balance.  Both come in a shampoo & conditioner, while the Smooth Vitality line also features a Smoothing Creme.
I was sent a set of the Moisture Balance products for review, and thoroughly enjoyed using them.  There was a very light, refreshing sent and my hair was left feeling incredibly clean.  I also found that my hair was much softer and healthier feeling after several days of washing it with the Pantene products.  Knowing that I'm using natural ingredients like Cassia make me feel like I'm doing something good for my hair, and when using Pantene, I know I'm getting a great value!