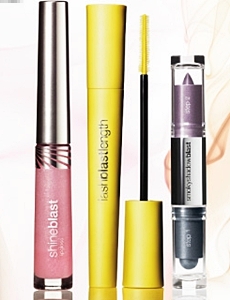 A few days ago, I posted about the CoverGirl Pre-Sale of ShineBlast, LashBlast, and ShadowBlast products.  If you haven't already checked it out, the pre-sale is still going on…  You can check it out here; there's a fab "Create a Blast" look where you provide info about your color, then try out several available shades on a virtual "model."
Y'all know I love my CoverGirl, so I was thrilled to get samples of these new products!  I received two of the ShineBlast lip glosses and two of the ShadowBlast duos, and have been playing with them for the past few days.  I thought I'd share my thoughts on wearing them…  I don't have a camera right now, so you'll just have to take my word that it looked awesome!
About ShadowBlasts:
The ShadowBlast duo that most drew my attention was Citrus Flair; the rounded end (AKA "Step 1") is a beautiful Chartreuse, borderlime line hue, while the more pointed end (AKA "Step 2") is a rich, coppery shade.  The idea behind the different shapes is that you can easily create a smokey eye with the two step process; cover the lid with your Step 1 shade and smoke out your crease with the Step 2 shade.
The ShadowBlasts remind me of MAC's shadesticks, however, the shadesticks retail for $16.50 (more than twice the price of a $7.49 ShadowBlast) and come in only five neutral colors.  I like to base bright colored looks with a creamy product, and having a similarly toned product makes my shadow much more intense.
My Look:
The ShadowBlasts are a bit slick (much like MAC's shadesticks) and my eyelids can get a bit greasy, so I started with a primer.  My favorite is Urban Decay Eyeshadow Primer Potion
; if you haven't tried it already, I promise that it will become an absolute staple in your makeup bag when you do!
After applying primer all over the lid, I used the green end of the ShadowBlast all the way up to my brow bone.  I blended it gently with my finger, making sure it reached the corners of my eyes and became softer higher up.  Next, I found a similar hued green eye shadow (an unlabeled sample so no names, sorry!), and layered it over the existing green.  I *loved* how the ShadowBlast made the green shadow so much bolder and brighter than it is on its own!
I then ran the copper end of the ShadowBlast in the crease of my eye, from corner to corner.  I applied it a tiny bit thick, because I knew I'd be blending it out soon.  I layered the copper with a similar colored shadow just like the green, and again was met with fabulous, pigment packed results!
Finally, I used my finger to blend the copper into the green, slightly above the crease and then down to my lash line.  The colors actually work together better than I thought, and the look felt very "Fall" to me.  Finish with eye liner (I'm addicted to MAC's black Technakohl) and CoverGirl LashBlast Length Mascara in Very Black
– and then the face makeup of your choice.
Of course, you can't forget the lips.  I slicked on a beautiful tangerine ShineBlast (2nd from right), and viola!  I seriously loved the results!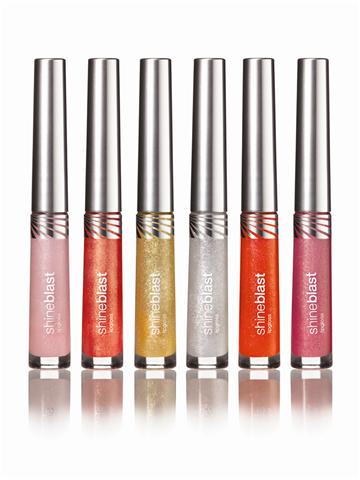 About ShineBlasts:
These reminded me of another MAC product- the dazzleglass.  I'm a dazzleglass addict, but since they retail for almost $20, I only have two.  The ShineBlasts retail for only $7.49 and the full line will include a whopping sixteen shades!  I received the third and fifth shades in the pictures above, both of which are perfect for fall and winter looks.  While they're not quite as pigmented as the dazzleglasses, both add a subtle color and soft shimmer to my lips.  They also look beautiful over lipsticks in the same family!
Don't forget to check out the Blast Pre-Sale; all the details are here but just as a reminder:Â  if you order purchase all three products from Drugstore.com
you'll receive $5, and if you pick 'em up from CVS you'll get free shipping.