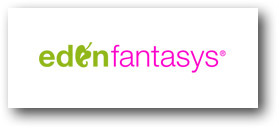 Not quite sure what to be for Halloween?  Planning on attending an more grown-up party, or doing a bit of sexy "trick or treating" with your special someone?  Eden Fantasys has a selection of fun costumes, perfect for expressing your wild side!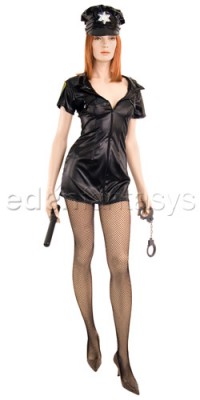 "Whether you're looking for a sexy Halloween costume or something to spice things up, this sultry costume is the ideal outfit for either occasion. This stretchy dress is super short, and has a zipper closure in the front that goes all the way down to the hem to be adjusted as you desire. A "Police" patch is on the right sleeve, and the collar and front pockets are made of vinyl. A matching hat, handcuffs, and baton are included to complete this set. Add a pair of fishnet stockings or thigh highs to make this costume even sexier."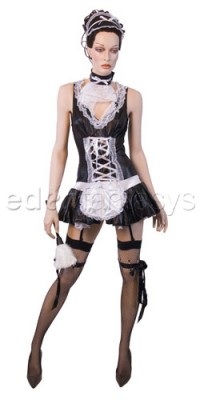 Naughty Maid Costume – $42.99
"By far one of the sexiest French Maid costumes we've seen, this 4 piece Naughty French Maid's Costume comes with headpiece, choker, feather duster, and lace up front apron dress with attached petticoat. Perfect for Halloween or a romantic night in."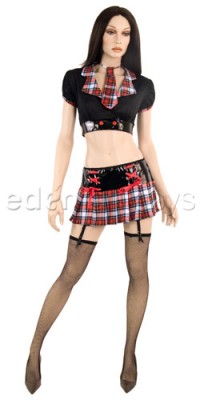 Darque Shool Girl – $59.99
"This certainly isn't your ordinary school girl. This Darque school girl costume is a hot little outfit that's perfect for role play or to wear for Halloween. A sexy nylon top that has plaid on the collar as well as the trim on the sleeves, also boasts a vinyl hem just under the bustline with a velcro closure. The pleated skirt features a vinyl waist with lace up detail, and a plaid bottom with detachable adjustable garters. A matching peek-a-boo bikini top and crotchless panty give this ensemble an exotic flair that can be worn alone to spice things up. Slip into the fishnet thigh highs and neck tie to complete this set."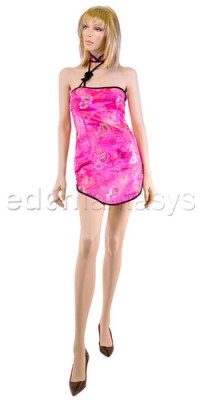 Brocade Mini Dress – $27.99
"This dress not only makes a sexy Halloween costume, but it makes a sexy outfit for any occassion all year long. Made out of nylon, this dress features a classic oriental brocade print with black trim. The tube style dress also has a mandarin collar attached to the rest of the dress with frog closure details. Sexy and elegant, this dress will stun him. Also included are two clear bra straps for extra comfort and support."
And if you already have a costume but just need the finishing touches, there are plenty of options for that, too!  I'm a big fan of their hosiery selection!  There's also a great selection of accessories– "props," if you will- masks, cuffs, hats, petticoats, and, uh, "pasties" (AKA nipple covers, if you're having a Lil Kim sort of night)!  So, whether you're spending Halloween playing indoors or out, sexy or sweet…  Well, there's something for everyone!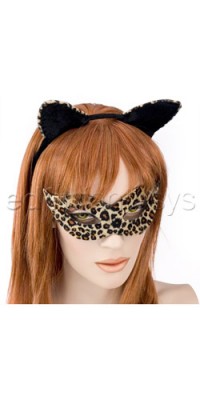 Eden Fantasys is one of the many fabulous sponsors of Fashionable Gals for A Cure!  Look for Prize #7, which includes a selection of Eden Fantasys products- the Naughty Weekender 2 Couples Kit, Lipstick Incognito Vibrator, Doc Johnson Antibacterial Toy Cleaner AND several other brands (a Beautyfix Kit and a Gillette shave duo).  The value is over $120 and contains everything you need to get pretty, then get down ; )  Eden Fantasys ALSO donated a $100 Gift Card, which will go to the person who refers the most entrants to Fashionable Gals for a Cure!  So enter yourself, then spread the word and get your name out there- everybody wins!