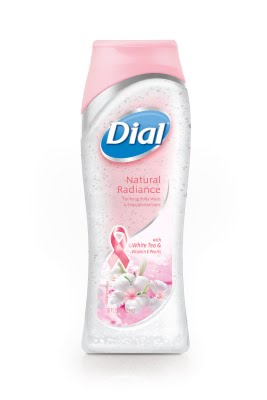 Dial has rolled out a special edition, Breast Cancer Awareness product for October… Their Natural Radiance Body Wash with White Tea & Vitamin E Pearlshas gone pink!
I was sent a bottle by Dial, and I LOVE the scent! It's very gentle and relaxing, but still smells clean and "healthy." Not in a doctor's office sort of way- it just smells like you're going to come out of the shower clean! It's from the same line as the Cranberry Antioxidant body wash, which I reviewed previously- and finally ran out of (much to my disappointment).
The Natural Radiance body wash delivers, with a rich lather and extra clean sensation. My only issue was that while my skin did not feel dehydrated, I did feel a little too "squeaky clean" after my shower. A little moisturizer solved the issue, and my skin felt clean for longer than it normally does- so there was no real issue.
The White Tea & Vitamin E formulation is also available in bar form, hand soap, and soap refill- and each of these products are currently "pink!" You can view the lineup and learn more about each individual product here. An 18 oz bottle of the body wash retails for $4.49, and a 3-pack of body bars is $2.79- the cheapest clean you'll ever have!
Donations from the sale of these products ($100,000) will benefit the Breast Cancer Network of Strength, which is an organization that "provides immediate emotional relief to anyone affected by breast cancer. The mission of the BCNS is to ensure, through information, empowerment and peer support, that no one faces breast cancer alone."
Dial has generously donated a bottle of the White Tea & Vitamin E body wash to Fashionable Gals for a Cure.  Look for Prize Pack #8, where the body wash is partnered with a bouquet from Teleflora,  a home  ambiance set from Antica Farmicista, and a  kit from Beautyfix!  Each dollar you donate will earn an entry towards this rockin' prize- so skip that donut one day this week, and earn an entry!