This month on The Fashionable Gal, we're very focused on giving back and supporting our sisters, mothers, best friends- and all the other wonderful women in our lives. It's been wonderful to see all the like-minded companies showing their support by rolling out "pink" products by the dozen… And it's been fabulous how many of those companies were willing to donate prizes to our
Breast Cancer Research Fundraiser
!
Carolina Pad
is one of those amazing, generous companies that has reached out to help. As you may remember, they were generous enough to share their wonderful school/office supplies with me AND with one of you last month (you can read my review
here
). After that display of generosity, I figured that when I asked about supporting our fundraiser, I would most likely receive a polite no thank you- but instead, Carolina Pad donated this
laptop tote
from the
Eye Candy Collection
(one of my favorite items from them!):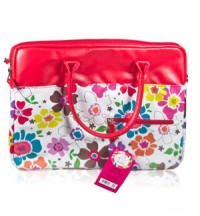 What I love more than their quality products, beautiful designs, and affordable prices? The huge heart of everyone that works at Carolina Pad. Not only have they shared their products with bloggers like myself, and given them away to readers like you- they continue to give back, through the sale of their "
Kendall Kollection
." While the Kendall Kollection does not donate to Breast Cancer, it does support an equally worth cause. You can read about it below (the information is taken directly from the Carolina Pad site).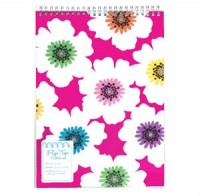 Inspired by a Special Little Girl
Carolina Pad Signature designer Jacqueline Savage McFee dedicated this fashion collection in honor of her small cousin Kendall Sierens, who is fighting Leukemia. This disease causes more deaths of children and young adults under the age of 20 than any other form of cancer.
A Great Partnership Helps Build Hope One Notebook at a Time
Thanks to this partnership of Jackie, Carolina Pad, and The Leukemia & Lymphoma Society, Kendall Kollection notebooks, folders, binders, pencils and other supplies are now at stores across the U.S. A portion of each sale goes to support LLS's blood cancer research and patient education and support services.
Hope for the Future
Diagnosed when she was two, Kendall is now four and doing well. Although her fight is far from over, she is slowly battling her way back to health. Her courage serves as a beacon of hope to all leukemia sufferers and their families.
Learn more about Kendall and her family and view the Kendall video, by visiting Jackie's Web site: http://www.jackiemcfee.com/main2.php and click on "Kendall Kollection".
Learn more about The Leukemia & Lymphoma Society and their efforts to fight blood cancers: www.lls.org. Read the LLS press release.
I strongly urge you to consider the Kendall Kollection, and Carolina Pad in general, next time you find yourself in need of stylish school or office supplies. I love mine, and will definitely be purchasing more next semester, next year, and again after that.
I also ask that you please look at our Fashionable Gals for a Cure fundraiser page. There are several thousand dollars worth of prizes up for grabs, and all you need to do to enter is donate $1.00. Downsize your coffee one day this week, and you won't even feel the donation- plus, you'll have the chance at an amazing prize package.
(Note: No product or compensation was provided to me for this review. I did receive samples from Carolina Pad for a previous review, as mentioned above.)