"It is glōminerals' belief that good-for-you beauty doesn't have to be basic. Innovative eye, cheek, and lip products are offered in a rich color palette of fashion-forward shades and timeless color classics designed to enhance every complexion. glōminerals' five foundation formula options offer the most comprehensive shade range available, allowing every skin tone to find a perfect match.
Uniquely formulated utilizing only the finest pharmaceutical-grade ingredients, triple-milled high-pigment minerals, and an advanced antioxidant complex of Vitamins A, C, and E and green tea extract, glōminerals provides broad-spectrum UV protection and helps to defend against free radical damage, to deliver a radiant, healthy complexion. In addition, glominerals formulas are talc-free, non-comedogenic and free of perfumes and chemical dyes, making them suitable for even the most sensitive skin types, including those with acne and rosacea.
glōminerals is embraced by dermatologists, plastic surgeons and skincare professionals because it is ideal for use after chemical or laser procedures to help protect and heal the skin and for everyday use to maintain a healthy, luminous complexion and a stunning glō!"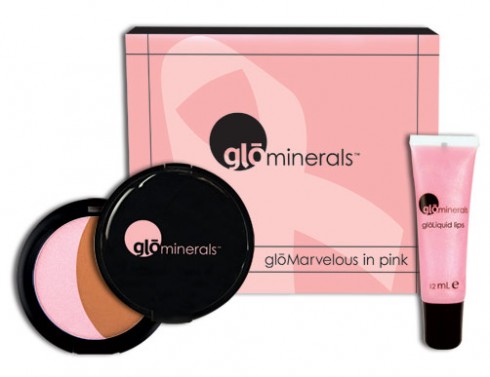 "glominerals has partnered with the National Breast Cancer Foundation to support its mission to extend women's lives through education about breast cancer and early detection.
The glōMarvelous in pink kit was created exclusively to raise awareness and help in the fight against breast cancer."
I love this set!  I think the pink shade they selected will be pretty universally flattering, which is really a feat!  The bronze/highlighter blush is a beautiful way to keep a hint of sun during the cold months ahead, and the lip gloss will brighten your look and your outlook- because really, how can you be bummed out in such a glamorous pink hue?
For updates and deals, you can follow them on Twitter @gloskincare!  Right now there's a "Freebie Friday" code for a liner trio with any purchase- I'm all over that!
The glōMarvelous kit retails for $32, but here at The Fashionable Gal you have a chance to win your own!  gloProfessional super generously donated one of these fab sets to Fashionable Gals for a Cure!  Look for Prize #9 where this fab pack is paired with a Nimli Cashmere wrap, She Colors My Day 3-in-1 from Philosophy, an Antidote Skincare Tanning Kit, and a razor/shave cream set from Gillette- a prize pack (worth $149) guaranteed to help you keep a fabulous "glo" all year 'round!