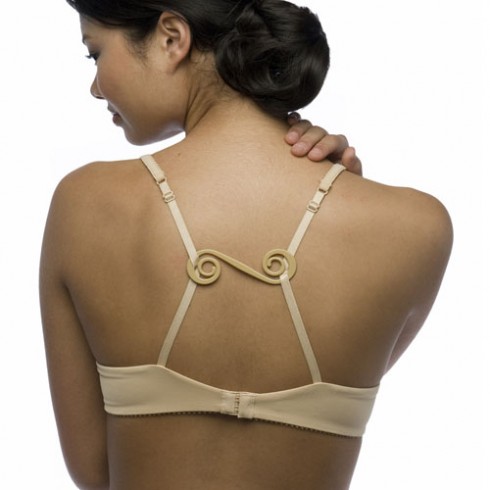 "Do your straps like to play peek-a-boo?
Bra Barrettes are a flexible and durable plastic that easily slips onto your straps to keep them in place under clothes all day, comfortably.
Is the elastic in your bra strap more like a bungee cord?
A Bra Barrette will extend the life of our hardworking bras. Often the elastic is the first thing to go. Save some money – use a Bra Barrette to keep your straps in place.
Does your exercise routine include: stop, reach, tug. Repeat. Repeat. Repeat?
As women we get mad at men when they "adjust" in public, yet we do the same thing!! Get a Bra Barrette and Get Bra Confident!
It's TIME! You deserve a Bra Strap Holder with Function and Fashion!
The Bra Barrette is not only functional, but with the added charms and crystals it's fashionable too. Each Bra Barrette is tinted plastic so the color will never fade. Each charm is attached by a clasp so you can interchange your charms to match your outfit! For our Crystal BBs we use Genuine Swarovski Crystal."
Lara Merriam-Smith is a genius.  I've been trying to make my own "bra barrette" for years- paper clips, safety pins, regular barrettes, and once, regrettably…  Yarn.  None of those options were comfortable, easy, or even vaguely stylish.  And none worked particularly well!  Thankfully, Merriam-Smith picked up where I left off and made a functional, easy-to-use, affordable solution to the age old issue of "strap slippage."  The Bra Barrette is fabulous!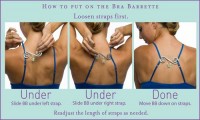 Depending on what sort of statement you want to make, there's a Bra Barrette to match your mood, event, or style!
~If you're Barrette will be covered, or you just don't have a need for attention, check out the "Plain" section!  Don't be fooled- plain doesn't mean boring!  These Barrettes are available in a beautiful selection of colors, although there are clear and black styles available if you're serious about not standing out!  I was sent a black and a pink Barrette from this section, and I love both!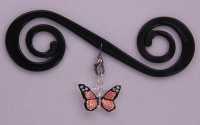 ~"Charmed" is my favorite section…  These are perfect for tank tops that need a little bit of flair!  There is a wide range of Barrette colors, with a perfectly matched charm.  I was sent the Orange Butterfly to review, and I'm enamored!  I have a lot of boring black camis definitely benefit from a Bra Barrette Boost!  These actually work on the actual camisole straps as well, which is fabulous on the days that I don't feel like wearing a serious bra, but need a little more boost from the built in "shelf."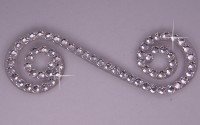 ~"Crystal" is the category to hit if you're looking for some serious bling!  These b-e-a-u-tiful Barrettes will catch everyone's eye!  Each one is made with hand-placed Swarovski crystals to ensure the most stunning effect; wear these with a fabulous spaghetti strap evening dress and be the gal who gets noticed!

Bra Barrette also has a wonderful selection of super-cute "Pink" Bra Barrettes, which benefit Breast Cancer Research!  "Team Bra Barrette is walking the Seattle 3-Day benefiting Susan G. Kolman for the Cure and the National Philianthropic Trust. 100% of proceeds from the sale of Breast Cancer Awareness Bra Barrettes goes directly to supporting the team."
Not only is Bra Barrette walking for the Cause, but they've also very generously donated EIGHT Breast Cancer Awareness Bra Barrettes to Fashionable Gals for a Cure!  Two of each are up for grabs, and you can find them in Prize #4 (with a Carolina Pad laptop tote, Boscia rose blotting linens, Nimli cashmere wrap, SWAC lip gloss, and a SuperShoes.com gift card), Prize #6 (with a Beautyfix Kit, Mama Mio Boob Tube Cream, Whish Body Butter, and Gillette Shave Duo), Prize #13 (with a Laughing Vixen Pendant, DermaQuest Glyco Cream, Beautyfix Kit, and $25 Marshalls Gift Card), and Prize #15 (with a Beautyfix Kit, a Laughing Vixen Pendant, $50 SuperShoes.com Gift Card, and Gillette Shave Duo).  I recommend keeping one for yourself and giving one to a very lucky friend as a holiday gift!
Thank you to Bra Barrette for being generous with me, my readers, and Breast Cancer Research!  You rock!