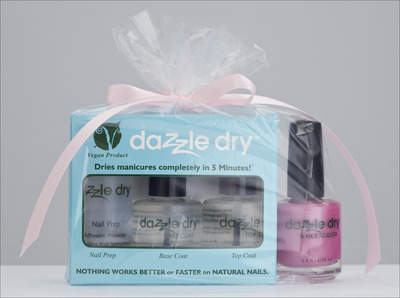 "Fast-drying nail polish colors and a quick
drying top coat of the utmost speed unite to form
the Dazzle Dry Quick Dry Nail System – a full line
of nail polish colors, a topcoat and a base coat
for natural nails that deliver chic, beautiful nails
in minutes.
The Dazzle Dry Quick Dry Nail System revolutionizes
nail care by slicing the time it takes for a normal manicure
to dry by more than half. This complete system includes
a full line of nail polish colors to suit every mood and
deliver beautiful nails easily to even those with the
on-the-go lifestyle."
I won a Dazzle Dry Kit last year from one of my fellow bloggers, and I love it!  I have a major issue with keeping nail polish on, but Dazzle Dry really works for me.  The system is simple to use- there's really no extra step, as you should already be cleaning, priming, and then sealing your nails for the best results! The line has a breathtaking
selection of shades
, which contains colors appropriate for each season and all occasions.  I'm particularly partial to Aztec Blue and Casablanca, and look forward to adding them to my polish stash!
The
"standard" kit
includes the prep, base, and top coats, as well as three polish colors (it's the one I have!).  You can also buy the
system
, sans nail polish, separately if you'd like to use it with the nail lacquers you already own!
Dazzle Dry is one of the very stylish sponsors of
Fashionable Gals for a Cure
!  They've generously donated their Warm Affection Kit (pictured at top), which contains the prep, base coat, top coat, and a gorgeous pink polish!  You can find it in Prize #20, along with a pair of handmade Hot Rox Jewelry earrings and a set of Bling Strands! Thank you, Dazzle Dry!