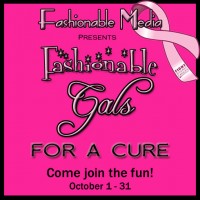 Happy Monday, Ladies!  Since our Fashionable Gals for a Cure Fundraiser ends on Saturday (Oct. 31st AKA Halloween!), we just wanted to give you an update on how many entries each prize has, in case you're still wondering what your odds are, or what prizes you should enter towards!
Before we get to that, a few things to remember:
~Whoever donates the MOST money will win a $100 Eden Fantasys Gift Card! Right now, the biggest donation is $50, so if you donate more than that you'll be in the running…Â  And get the gift card for basically half price!
~Whoever refers the MOST ENTRANTS will win a $100 SuperShoes.com Gift Card! So tell your friends!
~If you donate $10 or more, you'll be entered to win a Clarisonic Skincare Brush, valued at $195!
Okay, so onto the prizes…
The ones with the lowest entries (some under 10 entries!) are:Â  #1, #2, #7, #16, #17, #20!
Those prizes include hair accessories, jewelry, clothing, lingerie, shaving products, adult toys, body products, at home tanners, gift cards, and a plethora of skincare and cosmetics!  And it could all be yours!
REMEMBER, it only takes $1 to enter and $1 to win! Downsize (or skip) your coffee one morning this week, bring your lunch instead of buying, or just think about all that loose change in your purse…  $1 is totally manageable!  Especially when you consider what you have to win — and that there's nothing to lose (the money's going to charity, after all)!