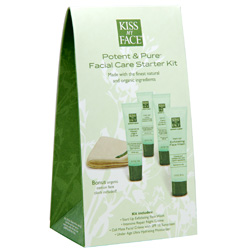 One of my favorite natural & organic brands, Kiss My Face, has launched a new skincare collection!
"The Kiss My Face Potent and Pure facial care system is formulated with the highest quality and most effective ingredients that nature has to offer. We've used only the most potent and pure extracts and organic or wild-crafted botanicals in abundant concentrations, so you'll see the results you expect and more.
This system was created by combining the latest scientific research with beneficial botanicals, vitamins, extracts and minerals that are time tested and true. These are among the cleanest products available, great for sensitive skin and free of ingredients that clog pores. Â No parabens, phthalates, SLS, artificial colors and fragrances, and not tested on animals."
The line includes a wide range of cleansers, moisturizers, and treatment products that cater to all different types of skin!  Each product is around 20 but is a sufficient quantity to last several months.   The line includes:
~C The Change Ester C Serum
~Break Out Botanical Acne Gel
~Cell Mate 15 Face Creme & Sunscreen
~Under Age Ultra Hydrating Moisturizer
~So Refined Jojoba & Mint Facial Scrub
~Pore Shrink Deep Pore Cleansing Mask
~Start Up Exfoliating Face Wash
~Eye Witness Eye Repair Creme
~Clean for A Day Creamy Face Cleanser
~Balancing Act Facial Toner
~Shea Soy Facial Cleansing Bar
~Brightening Day Cream
~Intensive Repair Night Creme
Buy It:  You can find Kiss My Face products in many grocery stores and natural foods stores.  You can also order them online here.
Win It:  1 lucky reader will win the Brightening Day Cream and Intensive Repair Night Cream.  That's a prize pack worth $46!  This contest is open to US Residents ONLY and will run until midnight EST on July 14th!  You can EITHER leave a comment on this post OR send an email to thefashionablegal@hotmail.com PER ENTRY!
Mandatory Entry:Â  Tell me which product from the Pure & Potent line you're most interested in trying.
Extra Entries:
Subscribe to the KMF e-newsletter (bottom right corner).  ~1 Entry
Use the Store Locater to find the closest KMF retailer near you (comment w/ the location).  ~1 Entry
Subscribe to my blog (box on sidebar) ~2 Entries
Follow me on Twitter @fashionablegal ~2 Entries
Tweet the giveaway using the following text (w/o quotation marks) & leave a direct link.  ~1 Entry per tweet, unlimited tweets!
"24 hour Kiss My Face product duo giveaway!  LOTS of ways to enter!  @fashionablegal -Bday Bash Giveaway 14 of 15!  http://tinyurl.com/kram2w"
Enter any other Birthday Bash Giveaway (that's 13 possible extras right there)!  ~1 Entry per Giveaway
Blog about this giveaway ~ 2 Extra Entries.  If you include a link to EVERY birthday bash giveaway in this last blog, you can have another 12 extras!!!