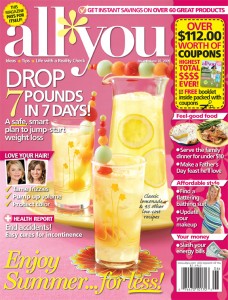 I know what some of you are thinking… "All You? That's some mom-mag, isn't it?" Well, you're wrong! Just because All You isn't all lip gloss and trash fashion doesn't mean it's not a page turner… In fact, it's one of my favorite magazines (and I'm only a few days short of 20).
Admittedly, I did start reading All you because my mom bought it–but it was the articles on the cover that made me start turning pages! All You is a great blend of knowledge and fun that anyone can benefit from!
College Students- have you discovered the magic of coupons yet??? I have a wallet stuffed with them and seriously, it's fantastic. I hope everyone knows that coupons aren't just for boring things like paper towel & dish detergent- there are plenty of beauty coupons, and ones for fun snacks! Here's an example from the August issue: LaCross/Sally Hansen Beauty Tool Save $1.00 on an purchase of $2.00 or more exp 09/30/09. Nice, right?
Not only does All You feature great money saving tips and amazing coupons, but there are also plenty of articles about healthy, beauty, fashion… It's jam-packed with budget beauty finds, safe dieting tips, advice on getting great fitting clothing, and even fun ideas for party planning! They might not be instructions for keg-stands, but isn't it nice to take a break and have a barbecue (or even a swanky soirée) sometimes?
Now, what about the articles you think have nothing to do with anyone under 30? The home decorating or parenting tips? Well first of all, who said your apartment has to be a pit just because you're a student? I love decorating tips because even if I'm not about to repaint the place, it's neat to have tips on how to best arrange furniture or where to buy the cheapest "finishing touches." And those parenting tips? If you have siblings… Consider them a "how to defuse sibling rivalry" manual. I never skip that section of any magazine I'm reading because even if you're not dealing directly with children on a frequent basis, a lot of parenting tips can be tweaked to different situations, like dealing with a significant other or roommate! (Or, if you already have kids, take them just as intended!)
Now, the people at All You know their magazine is great, but they decided their website needed some work. I admit- I didn't ever visit the website before the relaunch… But I know it's awesome now! Of course, my favorite section is the "Style For Less" section–because it's where all the beauty tips are at! Think they won't be relevant to you? Two of the beauty features right now are "Find the Perfect Bootcut Jeans" and "Beat the Heat with Meltproof Makeup." Still think you don't stand to learn anything? I didn't think so!
Oh, and there's also a really neat future right off the homepage (just go under "Food" -to the "Recipes" tab)-You can do a "budget recipe search," by just typing in an ingredient you want to use. I typed in bacon- don't judge!- and my first result was for Bacon-Cheddar Muffins… Yum! The cost per serving is only $0.24! So much cheaper than a morning muffin at Dunkin' Donuts! You can also find great step-by-step instructions for special occasions (Friend's birthday coming up? There are TONS of search results for "cake.") And speaking of money saving, you might want to check out this free tip from their website! I'll be taking advantage of it today : P
Right now, there's a special subscription offer running online! You can try 2 FREE trial issues (if you don't want to continue, just mark the bill "cancel" and return it) or just go ahead and subscribe for $23.88! Since each issue is packed with coupons and money managing tips, I can pretty much guarantee that it's a good investment!
What's that? You want to WIN a copy? Well, the super-generous folks at All You are here to hook you up! ONE lucky reader will win their very own subscription to the mag! This giveaway is open to all US residents and will run until Sunday July 19th at midnight EST. I know, everything else is ending on the 14th- but I want to give every lots of time to enter! All you have to do is EITHER leave a comment OR send an email to "thefashionablegal@hotmail.com" with the subject line "All You Giveaway!" Please leave a comment or send an email PER entry- if you put all your entries in one comment or email, you'll only get one entry and your extras won't count. Even after 12 giveaways, some people are still forgetting to do this!!!
Mandatory Entry: Visit the all new All You and tell me what your favorite section is or about a really cool feature you found!
Extra Entries:
Take a look at some of the specific articles. Find one that you think is particularly interesting or helpful, then leave me a comment with the article name, something you learned/why you liked it, and a direct link. ~2 Entries (you can just copy & paste the same comment 2 times.)
Subscribe to the All You Deals & Meals newsletter! ~1 Entry
Tell me one of the benefits of becoming an All You Reality Checker (and sign up if it sounds like something you'd be into!) ~1 Entry
Use the Budget Recipe Search (top of homepage) to find a recipe you'd like to try (comment with the name of the recipe). ~1 Entry
Tell me what the free tip I linked to is for. ~1 Entry
Subscribe to my newsletter (box on sidebar). ~2 Entries
Follow me on Twitter @fashionablegal. ~1 Entry
Tweet this giveaway using the following link (w/o quotation marks). Leave a link to the tweet in your comment. ~1 Entry per tweet, can be done 2x daily!
"Win a subscription to All You Magazine & score beauty and budget tips, plus tons of coupons! @fashionablegal http://tinyurl.com/lskm9d RT!"
Enter any other Birthday Bash Giveaway (they all end soon, so hurry!). ~1 Entry per giveaway
Blog about this giveaway with a link to this giveaway & the new All You homepage! ~5 Entries