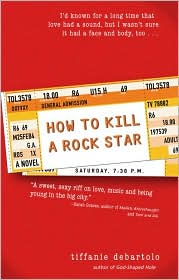 This one's for the music lovers. Not just the one's attached by invisible strings to their piano or guitar, but the ones who love to listen (and love to read). You know that song that gets stuck in your head for days, pulsating over and over until it's more familiar than the blood in your veins, somehow entwining itself with even the intangible roots of your soul? How To Kill A Rock Star is like that song… But better.
The first time I picked up a copy – penned by Tiffanie DeBartolo – was in the used section or Barnes & Noble. I thought it looked promising and so I shelled out a few dollars for a copy. Then, I was hooked. I spent hours reading and re-reading the same passages, only because I wanted to prolong the inevitable point where I'd reach the end of the book. I needed it to keep going.
There were great stretches where I could barely make out the words I was crying so hard, and other times where I was bursting with happiness. These characters make you feel. I simply can't explain how powerful this book was for me.
It's a love story, a story of rock 'n' roll, a story of youth and self discovery; it's none of that and it's so much more. There's no way for me to capture the essence of this book because it is simply too big for words. DeBartolo's got them, though, and you need to read them. You won't see the ending coming- I promise.
"Written in her wonderfully honest, edgy, passionate and often hilarious voice, Tiffanie DeBartolo tells the story of Eliza Caelum, a young music journalist, and Paul Hudson, a talented songwriter and lead singer of the band Bananafish. Eliza's reverence for rock is equaled only by Paul's, and the two fall wildly in love.
When Bananafish is signed by a big corporate label, and Paul is on his way to becoming a major rock star, Eliza must make a heartbreaking decision that leads to Paul's sudden disappearance and a surprise knock-your-socks-off ending."
Tiffanie DeBartolo is also the author of A God Shaped Hole. The two novels are tied for my favorite book ever- which is saying something, as I've read hundreds of books, if not thousands. They're simply literary masterpieces- and I'm lucky enough to share with you! I know that you generally expect lip gloss and eyeliner when you visit my blog, or at least light & fun "chick reads," but I couldn't possibly pass up the chance to share this amazing book with you!
Buy it: You can order online from Barnes & Noble here ($16 for a new copy).
Win it: The fantastic people at Sourcebooks are offering two lucky readers a chance to win a copy of How To Kill a Rockstar. Hurray! This contest is open until midnight EST on July 14th and open to US & Canadian residents only. To enter, please EITHER leave a comment on this post OR send an email to thefashionablegal@hotmail.com with "HTKAR Giveaway" as the subject. Leave a comment OR send an email PER entry! If you send me one email or leave me a comment with your mandatory entry AND a link to a tweet, etc. it will only count as one entry and you won't get your extras!
Mandatory Entry: Tell me your favorite band and/or song. Easy!
Extra Entries:
Tell me what literary character you relate to the most. ~1 Entry
Check out Sourcebooks and tell me another book you're interested in! ~1 Entry
Subscribe to the Sourcebooks newsletter (box on bottom right)- if you did this already for another contest, just let me know and it will count! ~1 Entry
Follow @sourcebooks on Twitter (again, counts if you already did) & comment with your ID. ~1 Entry
Follow me on Twitter @fashionablegal ~1 Entry
Tweet this giveaway (copy & paste text below w/o quotation marks). ~1 Entry per Tweet, can be done 2x daily.
"Win a copy of Tiffanie DeBartolo's "How to Kill A Rock Star." @fashionablegal 2 winners! http://tinyurl.com/nj6cmv ends 7/14 at midnight!"
Blog this giveaway (link me to it!). ~5 Entries!
Enter any other Birthday Bash Giveaway (including new ones when they're posted). ~1 Entry per Giveaway
As a reminder, here are the other Birthday Bash Giveaways–they're all still open!!!
Lashfood ($120 Value!) 1 Winner
Venus Embrace Razor & Satin Care Shave Gel ($16.98 Value!) 5 winners
Kiss My Face Lip Shimmers (29.70) & Lip Shines ($41.70) 2 Winners
Tone Blueberry Antioxidant Body Wash ($3.99) 1 Winner
Miranda's Big Mistake by Jill Mansell ($14) 1 Winner
Organix Instant Repair Treatment & Anti-Frizz Serum ($13.98) 2 Winners
Organix Coconut Milk Shampoo & Conditioner ($13.98) 2 Winners
Swarvoski Beaded Starfish Necklace from Sparkle Plenty ($15) 1 Winner
Handle with Care by Jodi Picoult ($27.95) 2 Winners
Skin MD Natural Shielding Lotion w/ SPF 15 ($25) 1 Winner
That's over $475 worth of prizes so far!