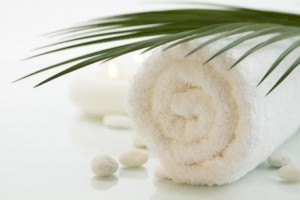 "Wouldn't life be great…
if we spent it
in our bathrobes?"
If you've been a reader since the beginning (or close, at least!) then you might remember my review of the wonderful products offered by Infusion Bath! I got to try a wonderful selection of their natural body products, and now the awesome people who run the company are offering two of you a chance to try their products as well! First, though, a bit about the company…

Infusion Bath makes products that are cruelty free, they don't contain additives or artificial coloring, and are free of sulfates and parabens. Instead of all that yucky stuff, they contain natural and organic ingredients for beauty you can really feel good about! The staff includes Certified Aromatherapists, which means that the essential oils are blended safely and effectively.
Infusion Bath has a line of products for Expectant Mothers, Moms & Babies, and Men in addition to their Bath & Body Care and Skin Care lines. They also offer a really neat selection of Body Fragrancing kits, based on your Zodiac sign! My sign, Cancer, has a recommendation of green tea. I love green tea so they got it right on! I'm a little jealous though; my boyfriends scent is Strawberries and Champagne. Yum!
Now, on to the trio of great products Infusion Body is offering you lovelies!
First is the Lime Blossom Body Butter ($9), which is surely an essential to your pampering routine. Infusion Bath's body butters are luxurious and fast absorbing, leaving skin soft and supple but not greasy. Other scents are available, including: Carnations in Bloom, Green Tea, Japanese Cherry, Lemon Fig, Strawberries & Champagne, Tahitian Vanilla.
The second product we're giving away is the Green Tea Makeup Remover ($9). Every gal needs a great makeup remover for all the rich coats of mascara and fabulous eyeliner! Taking your makeup off with products that contain lots of chemicals and whatnot is a bit counterproductive, seeing that you're just replacing the makeup on your face with other slop!
Last is the French Vanilla Lip Butter, which is one of the products I got to review! I really love the silky formulation and the high level of moisturization. The smell is also really delicious. I just can't get enough lip conditioners, but this is one of my faves! If Vanilla's not your thing, the lip butters are also available in: Caramel, Cocoa, and Peppermint. I don't see the lip butter being sold individually on the site, but as a duo with a matching scented lip scrub, the two products retail for $10!
Win It!
Please EITHER leave a comment on this post OR send an email to thefashionablegal@hotmail.com. If you send an email, use the subject line "Infusion Bath Giveaway." Please leave comment or send an email for EACH extra entry. If you leave a comment with all your entries in it, you won't get credit for the extras!

Mandatory Entry: Visit Infusion Bath and tell me another scent or product that looks good to you!
Extra Entries:
Visit the "About Us" page and tell me something you learned about one of the founders, Fran or Mike! ~1 Entry
Subscribe to my blog (box on sidebar). ~1 Entry
Follow me on Twitter @fashionablegal (leave ID in comment). ~1 Entry
Tweet this giveaway using the follow text (w/o quotation marks). ~1 Entry per tweet, can be done 2x daily!
"Win a trio of natural body products from Infusion Bath! @fashionablegal Birthday Bash Giveaway 12 of 15! http://tinyurl.com/n875qc"
Blog about this giveaway! ~5 Entries
Enter any other Birthday Bash Giveaway! ~1 Entry Per Giveaway