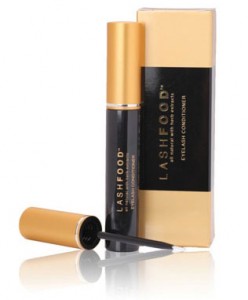 I love mascara. I won't leave the house without it. I devote many posts here to the latest and greatest mascara launches. I'd want it with me if I were stranded on a desert island.
…but wouldn't life be so much easier if I didn't need mascara? If only my lashes were long and thick on their own, and waking up for me was the same as it is in movies, where I was glowing and refreshed, rather than sporting lines across my forehead from pillow creases.
Lashfood might not make all my glowy skin dreams come true, but it is formulated to create longer, thicker, dreamier lashes!
"LashFood is an all natural eyelash and eyebrow conditioning stimulator that provides you with fuller, longer, darker, and stronger lashes. LashFood is formulated using the highest grade natural ingredients including Biotin, an essential vitamin, Arginine, a natural amino acid, and root and herbal extracts. The newest innovation of JB Cosmetics, LashFood is created by Jane Kim. JB Cosmetics is a well known cosmetic manufacturer that specializes in eyelash products and stands for sophistication and beauty."
Basically, all you do is use the slender-tipped brush to apply Lashfood like liquid eyeliner along your lash line. You can use it morning and night (doing both will speed results) and it won't conflict with normal product use. I like wearing wild colored mascaras, so I'd be bummed if I couldn't use other products with this one! Results should become apparent within the first 2-4 weeks, and a tube lasts for about five, although I bet you can stretch it to six and only have to replace your Lashfood twice a year.
I hate trying to apply false lashes, and am sick of having my mascara smear when I'm outside… Or just going through my daily routine. It would be so much easier if my lashes were lush and extra products were optional! Many women list their eyes as their best feature, so Lashfood is a great way to play up our strengths.
Now, let's talk price. Lashfood is $120 a tube… which seems outrageous. Maybe it is. However, you have to consider the how much you spend on other lash products during the year! I like to combine two mascaras every day; one type costs $16 and one costs $24. In a perfect world, I replace them every two months, although I usually wind up scraping more mascara out and stretching them to three. That's $40 every 3 months, or $160 a year. I also buy colored mascaras periodically (my fave are $21 apiece) so that's around another $60 I spend on fun mascaras. Falsies from MAC are what, $12 to $18 a pair? I think you probably get the point… Even though Lashfood is expensive, it will eliminate your need for tons of mascara. Even if you still use mascara on a daily basis with lash food, I'm sure you'll go through it a lot slower and not spend so much time buying fancy volumizing mascaras. Plus, coming out of the pool looking like a million bucks? …Priceless.
Buy It: Although Lashfood is normally $120, Drugstore.com carries it for only $99 (at least for now). Buy it here!
WIN IT! Of course, I love you guys so much (and am feeling so generous for my birthday) that I scored a tube for you guys! Well, one of you lucky readers, at least. You can EITHER enter by leaving a comment below OR send an email to thefashionablegal@hotmail.com with "Lashfood Giveaway" in the subject line- one comment or email per entry (more for doing things that get you more entries). This contest is open to US and Canadian readers and will end on July 15th at midnight EST!
Mandatory Entry: Visit Lashfood's website and tell me something else you learned about the company or product.
Extra Entries:
Tell me your greatest lash-related beauty tip(s). ~2 Entries
Subscribe to my blog (box on sidebar). ~1 Entry

Follow me on Twitter @fashionablegal ~1 Entry
Tweet the following (copy & paste w/o quotation marks) leave link in comment ~1 Entry per tweet, can be done 2x daily
"WIN a tube of Lashfood, worth $120!!! Thickens lashes & brows. @fashionablegal Birthday Bash Giveaway 10 of 15! http://tinyurl.com/ns8ogu"
Blog about this giveaway (leave link in comments). ~5 Entries
Enter any other Birthday Bash giveaway (you can come back when new ones are posted). ~1 Entry per contest