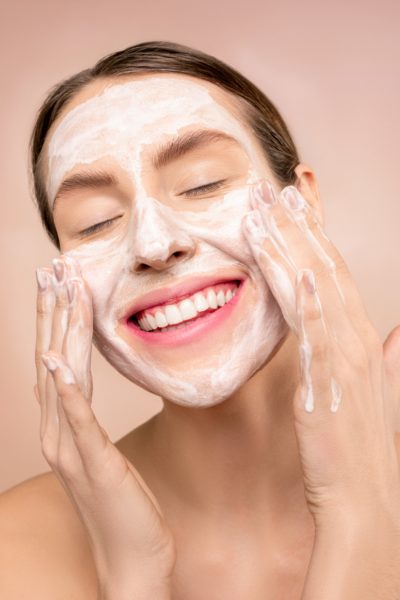 If you want to achieve a flawless look, then shrinking your pores is probably high on your agenda. If that is the case, I've put together a few different things you can try to turn those large pores into almost imperceptible ones.
Use water-based beauty treatments
If you are putting anything on your skin, whether it be moisturizer or makeup, it is a good idea to choose a water-based formula. Why? Because oil-based beauty products can clog your pored and make the problem a whole lot worse, whereas water-based ones will do their thing without leaving much of a trace at all.
Keep it clean
It is also really important that you wash your face at least twice a day, once in the morning and once in the evening, if you want to shrink your pores. This will help to remove excess amounts of natural oil which may otherwise clog your pores, from your fave.
When washing, use only warm water and a water-based cleanser – anything else could dry out your skin and inflame your pores.
Salicyclic acid
Salicylic acid is a really popular beauty ingredient right now, and with good reason, It is great at dealing with acne, inflammation, dead skin, and yes it can also help to shrink your pores too. Simply buy a reputable skincare treatment containing the ingredient, apply it as directed, and hopefully, you will start to see a huge difference in the size of your pores in no time at all.
Exfoliate regularly
It is so important that you exfoliate regularly to remove dead skin and scrub off any excess oil from your face. If you have a particularly oily complexion, then exfoliating 1-2 times a week should be enough, If your face is quite dry, you may be able to get away with doing so far less often, but if your skin starts to look dull and flaky, then you know that you need to exfoliate as soon as possible.
When exfoliating, you need to work hard enough to ensure you remove any dead skin cells and excess sebum ut try not to be too harsh or you could end up inflaming your skin, which might make your pore problem worse in the end.
Moisturize daily
Moisturizing each day is so important because, when you moisturize, your skin does not have to produce nearly as much oil for itself due to the fact you are never allowing your skin to get too dry. Obviously, as mentioned above, you need to use a moisturizer that is oil-free if you are serious about closing your pores.
Try a clay mask
Applying a clay mask to your skin at least twice a week will help to draw out any excess oil that you have not been able to remove by other means. Clay is great for absorbing sebum and it will help to prevent your pores from being filled with oil, which obviously makes them look much larger than they otherwise would. It is also great for softening your skin, and many people find that it helps with pimples and blemishes too.
Just bear in mind that clay masks can be quite intense, so you should not apply one on the same day that you are applying other intensive treatments including exfoliation.
Don't sleep in your makeup. If you sleep in your makeup. You are asking for trouble. Makeup is great at clogging your pores, and as you will know by now, when your pores are clogged by everything, they will appear much larger than they normally do and you will find it difficult to achieve that flawless look you so desire.
Apply essential oils
This is more of a natural remedy, but many people find that applying essential oils like cinnamon and clove oil are effective at minimizing pores by providing an antibacterial service to the skin.
Just be careful and ensure that you mix a few drops of essential oil with a carrier oil like coconut or almond oil because essential oils can and do burn the skin when not used properly.
As you can see, there are lots of methods you can use to shrink your pores successfully, and they do all work for many people. Depending on your pores and the condition of your skin, some will be more successful than others for you personally, so it is definitely worth experimenting to see what works best for you and your skin type over time. We are all different, after all!