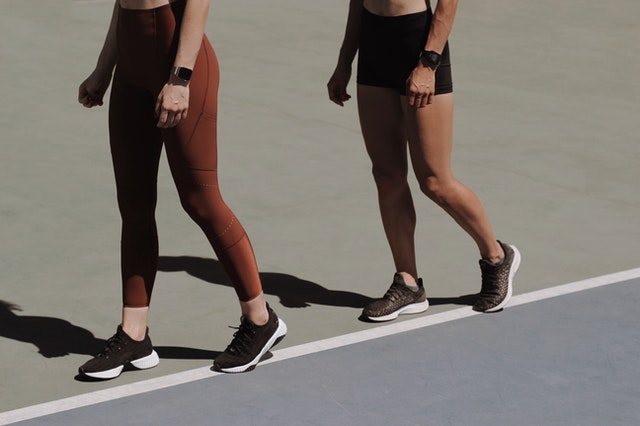 There are a couple of important and fascinating trends influencing athleisure's future in 2022. As more and more people dress for comfort instead of elegance following the global coronavirus pandemic and ensuing lockdowns, athleisure is now popular worldwide. CNBC denotes that items such as active bottoms, socks, sweatpants, sweatshirts, and sleepwear accounted for about 31% of total clothing expenditure in 2020.
Designed with high-tech synthetic fabrics and polyester, athleisure attires are versatile, attractive, comfortable, and stylish. You can don these outfits to social gatherings, school, work, and the gym. Best of all, athleisure clothes are made from rapid drying, lightweight, breathable, moisture-wicking, and wrinkle-free fabrics with UV-repelling characteristics. Here are the top ten athleisure trends you need to watch out for in 2022.
1. Non-Traditional Necklines
Most tank tops and sports bras that comprise unexpected necklines are super stylish. After years of cushioned sportswear, designers now incorporate one-shouldered and scooped necklines. As a result, the new athleisure wear boasts a stylish cut-out detail. However, you should avoid compromising your unique style by impersonating celebs.
2. Textured Outfits
Faux leather, ribbed fabrics, and reflective fabrics became a hit in 2021, and most of these trends are anticipated to remain in 2022. Due to this, designers are working round the clock to give customers classy and comfortable activewear. For example, these IBKUL golf shirts are ideal for playing golf while also giving you the freedom to wear them for a casual look.
3. Good-looking Bottoms
Designers are renouncing the typical bottom designs. You should, therefore, expect to come across plenty of flairs, split, and high-waist bottoms. The fascinating thing about the new pant designs is that they are chic and make your belly seem flat. These bottoms are unquestionably comfier than the low-waist bottoms.
4. Bright and Matching Sets
If color blocking entices you, 2022 is your year to experiment with athleisure outfits. Matching head-to-toe athleisure clothing is anticipated to remain. Vibrant and bright colors have become common over the years as they make your workout experience much more vivid. Remember, bright colors make people happy, and that's the most important thing in today's world.
5. Eco-Friendly Fabrics
The public now appreciates sustainable fabrics on clothes more than ever before. So, expect to find athleisure clothes from eco-friendly brands. Most individuals are subsiding towards this new trend due to fear of missing out or ethical reasons. Whatever the case, you will feel special donning a piece of clothing that protects the environment.
6. Cropped Outfits
Cropped leggings, pants, tanks, capris, and sports bras are the newest trend in the athleisure world. The good thing about cropped attire is that they are easier and cozier to pair with any casual attire. But remember to combine it with polished fabric to get a much-required sophisticated look. Also, it would be fit to avoid wearing cropped outfits to formal places like offices.
7. Biker Shorts
Although most warm-weather clothing trends don't last for a long time, biker shorts have stood the test of time. In the last couple of years, biker shorts experienced a drop in popularity, but that is anticipated to change with the invention of high-waisted shorts, longer shorts, botanical prints, and lace shorts.
8. All Day Activewear
In general, these are outfits that seem formal, yet they easily transform to perfect gym outfits. The upgraded thoughtful details like adjustable straps, hello pockets and anti-microbial fabric finishes give them incredible support for outdoor activities without compromising their commuter-friendly appeal.
9. Tennis Dressing
The tennis dressing style will be popular during the summer. For example, you can wear a tennis skirt or matching set to play the game or look stylish. Even if you have never hit the tennis ball, you can still look trendy in 2022 by wearing a chic tennis dress or skirt.
10. One-Pieces Wear
While it might be unwelcomed to sleep on a one-piece jumpsuit during the summer, it is worth noting that these athleisure garments will remain for 2022. With more brands forgoing the head-to-toe matching suits, a one-piece suit offers you a generous opportunity if you cannot find a bra that corresponds to your leggings.
Conclusion
Ultimately, these are the best athleisure trends for 2022. Whether you want to wear the trend for going to the gym, running errands, or even casual wear, you will unquestionably look fashionable.